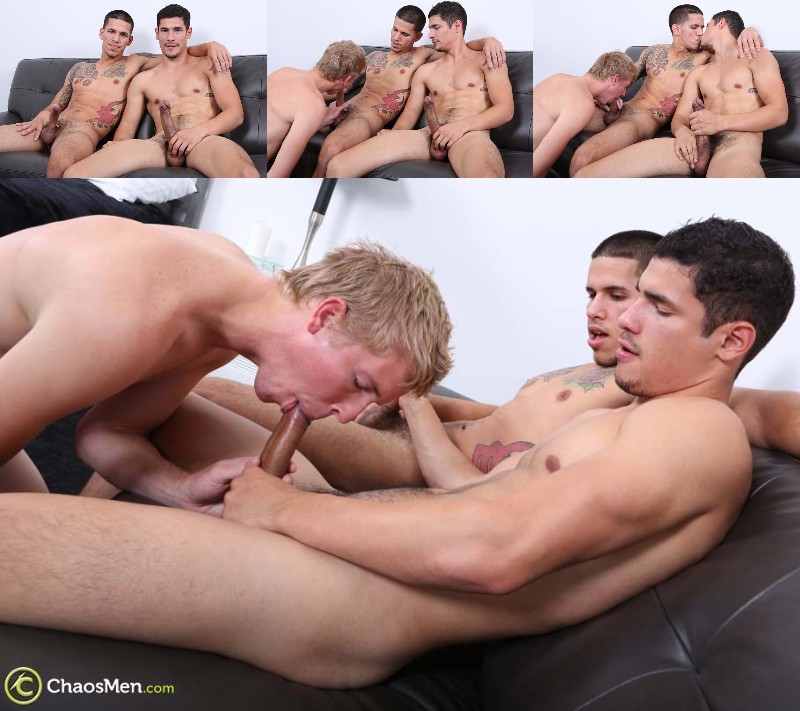 Get a One-Day Membership for $1.00
Cuban-born Amador has a girlfriend and she knows what he's doing over at Chaos Men, but Amador himself isn't sure about this having sex with guys thing. But he's gotten head and had two guys sit on his 9-inch cock, and this threeway is his third session, so for someone who was up in the air over fucking guys, he's sure is coming along nicely.
Amador is Cuban and Troi is Puerto Rican and they're sitting side by side on the leather sofa. Jon is gay and he know what he wants -- a nine-inch dick in each end of him. But first, he gets on his knees and blows Amador, then Troi. The guys watch him sucking the other and this gets them even more turned on. He breaks in the middle to kiss Amador and he reaches out and pulls Troi in for a threeway kiss. That's pretty fucking sexy. Then Troi asks him to try deep throating his cock. Jon opens wide and gulps it down easy peasy.
Amador doesn't seem to mind the kissing, and when Jon jumps up on the couch, the Cuban takes his place on the floor and sucks Jon's cock. Meanwhile, Jon kisses Troi and strokes his large cock. Then Troi and Amador swap places and Troi does some sucking. The guys take turns stuffing Jon's hole, but the hottest sequence sees Troi pumping Jon's ass while Amador sits on the bottom's face. And it seems he likes getting rimmed because Amador shoots all over Jon's face soon after that.