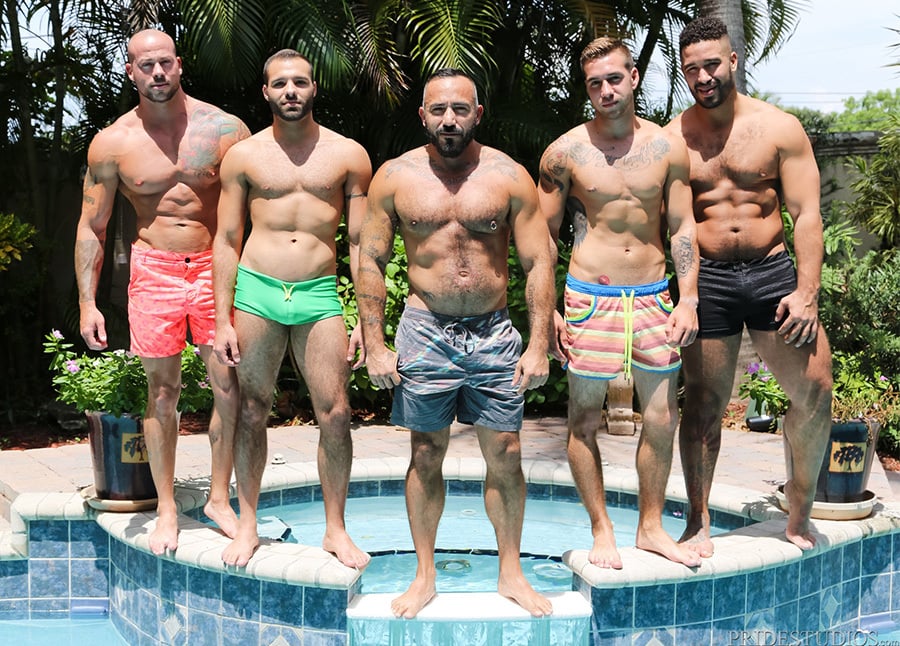 Do you remember Trey Turner? A few years ago starting in 2009 or so, he was everywhere in Pornland -- good-looking, ripped and hung studs are always in high demand. Turner was versatile, too, which made him all the more popular. Back then he was boyfriends with Jessie Colter, then in 2013, after four years of filming, Turner's Twitter feed went dark and he disappeared. But this month he's back and what a difference a couple of years makes! Come inside and check him out.
When I saw the line-up of five porn hunks in Men Over 30's Pool Party Pass Arounds, I didn't even recognize Trey Turner. Back in his heyday, he was lean with a very ripped body, sometimes he wore face scruff, sometimes he didn't -- the latter always made him look boyish -- but since then Trey Turner has packed on the beef. At six feet and over 200 pounds, he's a giant. These days he's wearing full beard -- a little patchy, but a beard nonetheless -- and a curly undercut, a hair style I normally think looks pretty dumb, but it suits Turner, and then some.
But my favourite part of the new Trey Turner? His massively thick thighs. I can't imagine anything hotter than having them wrapped around my head. And when you see him pounding the hell out of Braxton Smith in this threeway, you'll wish you were on that bed bottoming for this big hunk of burnin' love. I don't know where Trey Turner has been, but I'm glad he's back. And if you need reminding of his hotness, he's filmed over 38 scenes for Pride Studios, as well, he fucked Dimitri Kane in the first episode of Pool Party Pass Arounds.