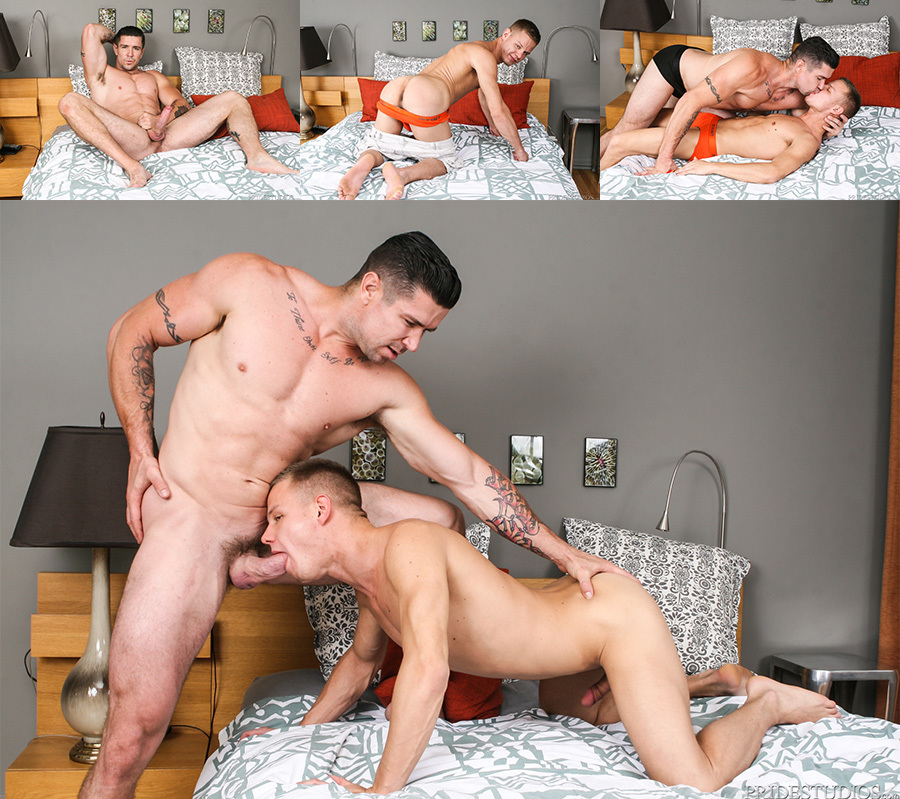 Fresh off his Grabby win for "Performer of the Year," Trenton Ducati appears on Dylan Lucas this week in My Parents Neighbor where he fucks Joseph Rough. Ducati shares his Grabby with Ryan Rose, apparently there was another tie, last year Ducati shared the award with Boomer Banks. And seeing Ducati's huge, banana-curved cock sliding into Joseph's mouth, I get why he continues to rack up Grabby awards -- he's got one of the most beautiful dicks in all of Pornland. These days, Ducati seems to be moving mostly behind the cameras with his own productions, so this Dylan Lucas scene is a treat.
Joseph Rough is returning home to his parents' house for the weekend and he runs into Trenton Ducati. Rough had a teenage crush on his neighbour and thought many times about sucking Trenton's cock, but his nerves always got the better of him. So now, he's inside his parents house (they're away for the moment) and he's spying on Ducati who is doing leg stretches on the lawn. It's been a couple of days since Joseph unloaded his nuts, so he hauls out his meat and jacks off while peeking from behind the sheer curtains.
Ducati sees what Joseph is doing and marches up to the house and knocks on the door. Joseph sheepishly answers, expecting to get yelled at, but instead Ducati plants a big kiss on him. They head for the bedroom where Rough gets a mouthful of Ducati's bone. Then, down on all fours with Ducati's thumb pushing in his hole, Rough groans, "Oh fuck me." And the lad finally gets what he's been dreaming about all these years.