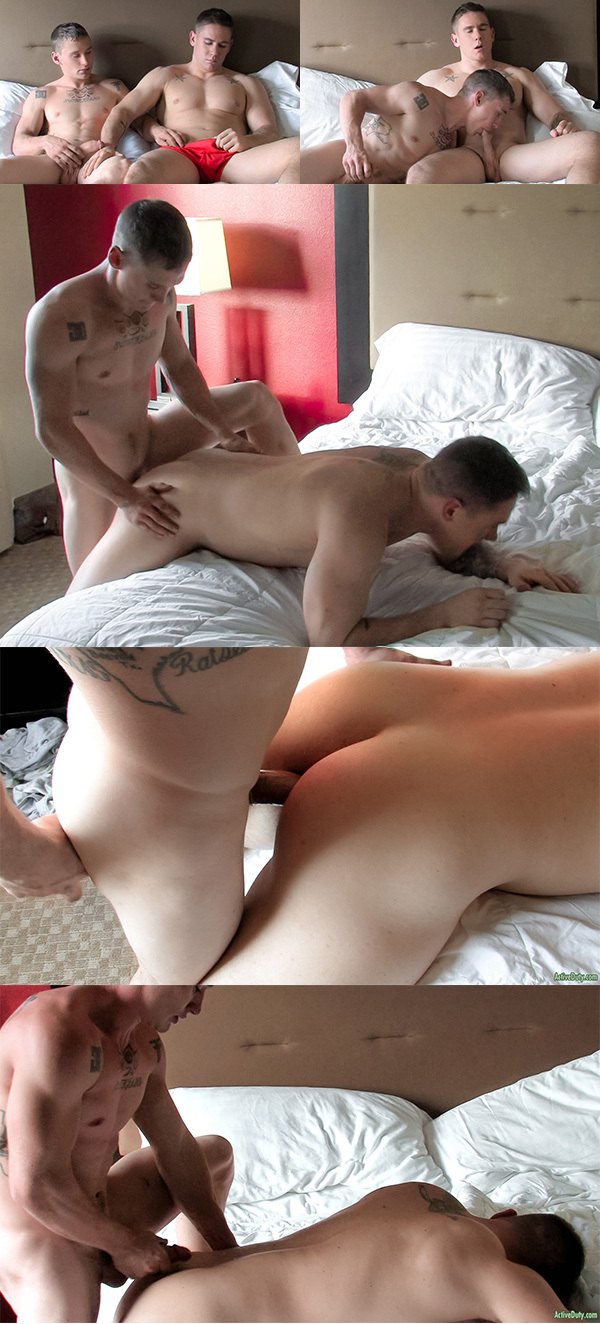 Seeing a big, beefy dude fucking a slimmer one is sort of the way it goes in nature, you know, the strong dominating the weak, or the not as strong. Active Duty's Randy looks like he could easily pick Tim up and bench press him over his head. But in this scene it's Tim who climbs on top of Randy and dominates his meaty ass. And that turns me on. Come inside and see what makes this fuck even hotter.
The guys sit back in the bed and watch a porno. Tim is buck naked and rock hard while Randy slips his hand inside his red underwear, still stroking and trying to get his dick hard. If you watch Tim you'll see him taking peeks at Randy's crotch, then he finally slips his hand under Randy's arm. The beefy hunk lets Tim slide into his underwear. Tim finally pulls out Randy's dick and sucks it.
After a couple of minutes Tim asks with a grin: "You wanna get fucked in the ass?" Randy says that he's never done anal before and Tim assures him that he's in good hands. Randy lies across the bed gripping the sheets, then Tim mounts him and inches his way in. Tim is thick, so it's not an easy rride, but it's not as bad as Randy thought it was going to be. Before long Randy's hole opens up and Tim is pumping away as his nut surges up from his balls.