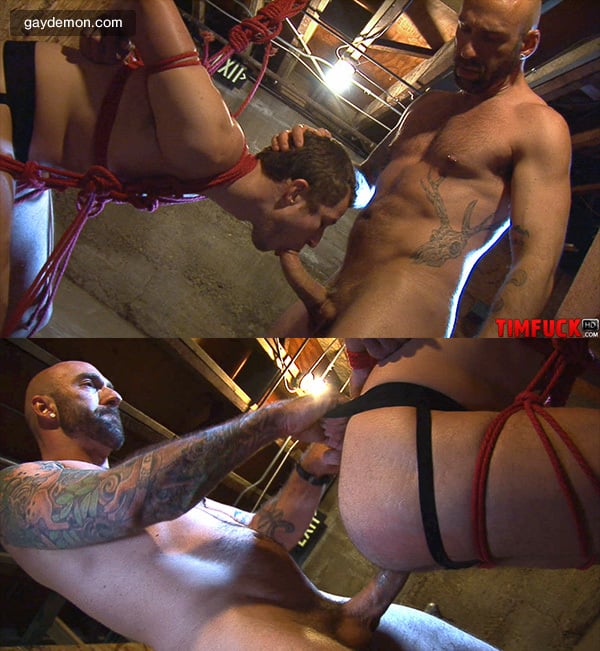 If Drew Sebastian wanted to tie you up and ram his huge cock in your bum, would you let him? I don't think I would. He's not hot or hung enough. BAZINGA! (Hmmm ... that Sheldonism doesn't work as well in writing ... oh well, I needed a way into this story. And in case you don't know who Sheldon is, check out Big Bang Theory.)
When bottom Luke Bennet heard that Drew Sebastian is into shibari, an artistic form of rope bondage, he suggested that they try it out for their TIM Fuck scene. And as I watched Luke, standing on his tippy toes, getting his furry butt speared by Drew's huge cock, I wondered about the extra thrill of getting fucked while being tied up. There's no reaching your hand back to slow the top's thrusting, no stopping his deep drilling. When you'rebound and helplessly strung up from the ceiling, you're pretty much at your top's mercy. I imagine that could take a bottom to new heights, unless you yell "pineapples" and end the scene.
The whole fuck was awesome to watch, but two things stood out for me. First, Bennet is hunched over and tied up with his hands behind his back and Sebastian's huge cock comes into the scene, Bennet opens his mouth and swallows. In that initial moment where Drew's dick is in front of Luke's face, you get a full appreciation for how big it is.
Second, Drew has been fucking Luke for a while, swinging him back on forth on his meat, and we're nearing the end. Drew's fuck grunting is getting more intense and he's growling like an animal. Bennet squirms on his toes. He's anticipating getting his hole doused, but he won't be able to see it. And he wants to, he so desperately wants to see Drew's big load splashing over his ass. Lucky for Luke he can now watch the video and see how good it looked.