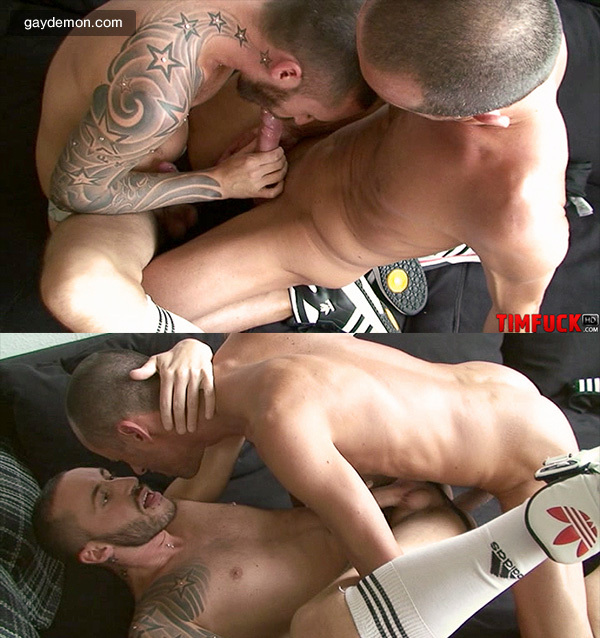 Can you fuck with your shoes on? I can't. Sure, if I'm trolling a park or bending over in a back alley, I'm going to be wearing shoes. But just kicking back at home with a man on the couch? No. Long before his dick gets into my ass, our shoes and socks will be off. In this new TIM Fuck scene, Marky screws tattooed bottom Ocram on the couch and they're both wearing their running shoes. What's up with that?
I get that guys have a sneaker fetish, I just don't really understand it. I'm not a prude or vanilla, I understand that weird things turn people on like my own fetish of staring at men's bare feet in elevators. My fetish is actually about seeing bare feet in public spaces -- a sneak peek at the man underneath the clothes -- but I live in a high rise, so I get most of my foot-watching opportunities in the elevator during the summer. I'm not sure what it is about seeing a man's bare feet that gets me revving. But I do know that if a man has ugly feet, I won't be able to stop thinking about them.
So who knows why Ocram and Marky are fucking in their shoes. Maybe they're into it, maybe they were just so panting hot for each other that they couldn't be assed to take them off. What is clear is that Ocram is hungry for Marky's wide hard-on, and after doing a good job of sucking it, he wants it in his ass. But Marky doesn't always give bottoms exactly what they want when they want it. So he chows down on Ocram's hole first, then he slides his bone in and gives the greedy bottom a deep and thorough fucking.