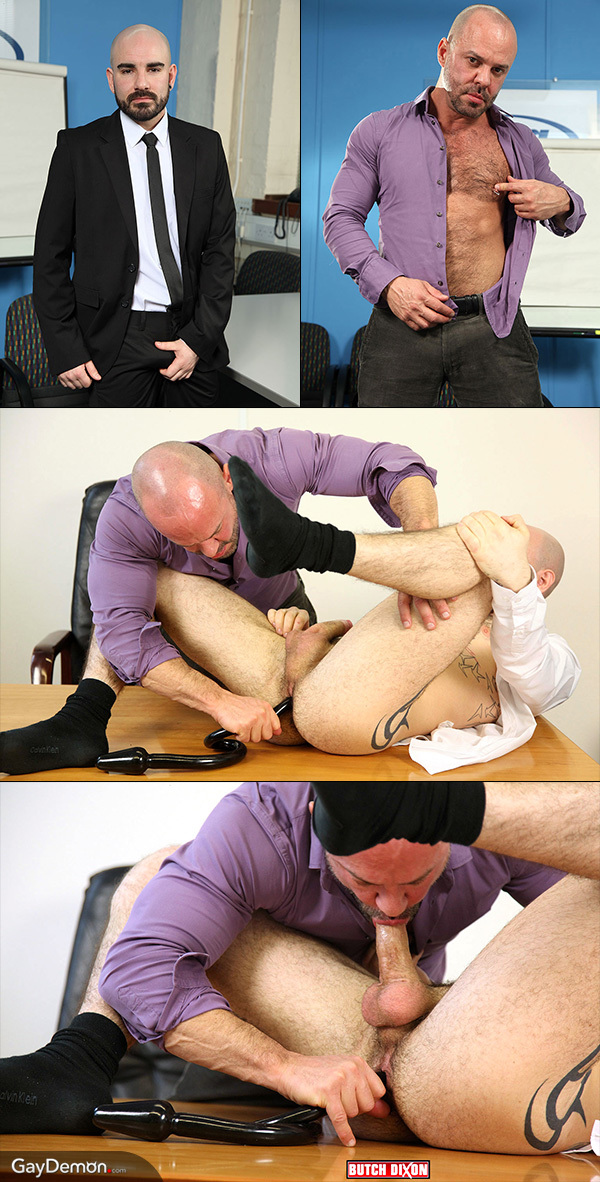 Sexy bald and bearded hunk Matteo Valentin is playing a dildo salesman in this new scene from Butch Dixon. He's in Carlo Cox's office and he's trying to get Carlo to buy 4,000 of these long, double-headed dildos for his chain of sex shops. Carlo says that before he commits to that number that he'll need a demonstration, and Carlo plunks a bottle of lube on the desk.
Matteo suggests that perhaps Carlo could commit to buying more units in exchange for a live demo. Carlo says, "We'll see". So Matteo strips off his suit jacket, slips out of his trousers and climbs up on the desk and slips the dildo inside his ass. "Can two people use this dildo?" Carlo asks. "Did you want to put the other end in your ass or help me out?" Carlo grabs the dildo and starts feeding it deep inside Matteo's hairy butt hole; "I'll help out," he says.
Soon the dildo demonstration is over and Carlo is feeding his own big dick down Matteo's throat, then he climbs onto the desk and pumps Matteo's ass with his huge cock. Riding Cox's hard-on in a reverse cowboy, Matteo sprays his creamy cum load all over the boss's desk. How many dildos did Cox end up buying? Who cares? Matteo leaves the office a very happy bottom.