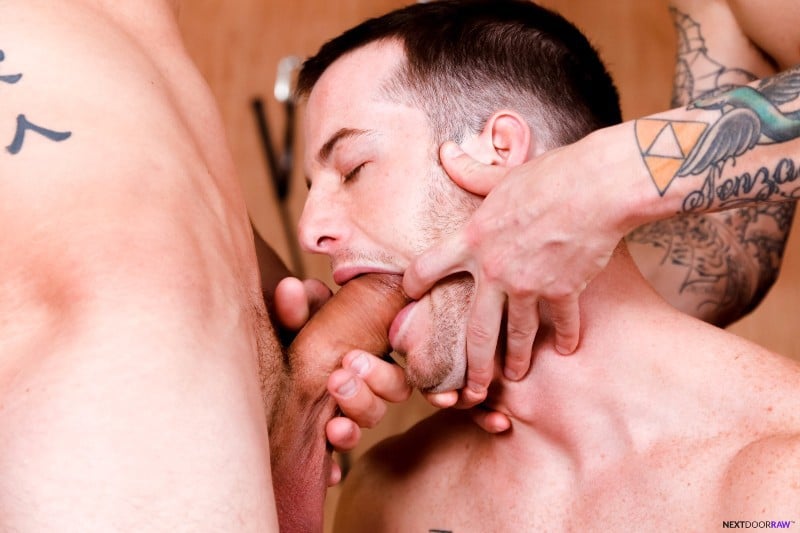 Get a One-Day Trial for $1.00 - Click Here
Quentin Gainz heads off to the local bath house in Next Door Raw's the Breeding House. He's horny and looking to suck some dick. He pays his fee, heads inside, and finds himself a glory hole stall where he kneels and gets to work on a nice piece of meat. What happens next will have bottoms squirming.
JJ Knight and Johnny Torque arrive at the Breeding House, the sleaziest bath house in town. It's their first visit. Quentin is taking a break when the pair arrive and he puts the heavy cruise on Johnny, then he returns to his glory hole. A few minutes later, Torque rips open the curtain to Quentin's glory hole stall and drags him out so he can service not only his dick, but his buddy's too.
Apparently Quentin only comes here to suck cock, so he's fine being passed between the two hung studs. But when they want more, he starts getting nervous. He's never been fucked before. But Johnny's not asking permission. He bends Quentin over and inches inside. And with his mouth full of JJ's huge cock, Quentin can't protest. Johnny slams open Quentin's asshole, then he turns it over to JJ. The bottom struggles with the size of JJ's fat piece of meat, but JJ is a patient top and keeps pushing until he's buried balls deep.