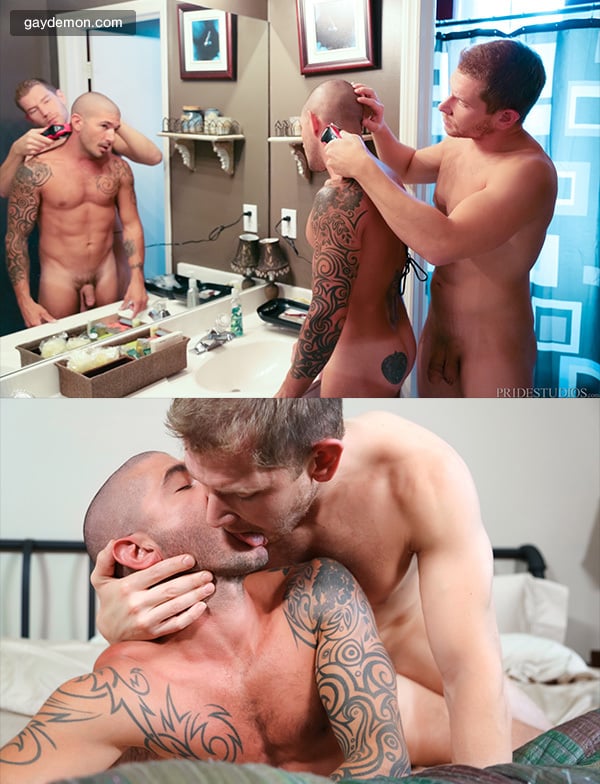 If you have had a partner for any length of time you've likely had one of those stupid fights over nothing. In this Men Over 30 scene, Alex Adams is shaving Johnny Hazzard's head in the bathroom. That's right! Hazzard shaves off all of his hair. I think he looks sexy. How about you?
Anyway, back to to our movie. Alex nicks Johnny with the clippers and they get into one of those "You always do ..." and "Why do you always have to be suck a prick?" arguments. Man, this sounds familiar. My partner and I just had one of those on the way to buy a light bulb, which cost eight fucking dollars, by the way. WTF! So Alex storms out of the bathroom and Johnny finishes his hair cut, and they end up going to bed angry. They even build a pillow wall between them so they don't have to look at each other in case they roll over.
But the best part of stupid fights is the hot make-up sex. And the next morning, Alex and Johnny set the bed on fire. Things I really loved about this scene: Johnny sticking his thumb in Alex's mouth while he's gulping Johnny's dick; Alex fingering Johnny hole while deep throating him; how Alex doesn't want to stop watching his bone disappearing down Johnny's throat, but he can't take his eyes off his lover's ass; and Alex pulling Johnny's dick back between his legs and licking it before burying his face in that hot butt; Alex nailing Johnny doggy style; Alex riding Johnny's bone; and finally, Alex filling Johnny's mouth with cum. Hmmm ... I think I'm going to go pick a fight with my husband.