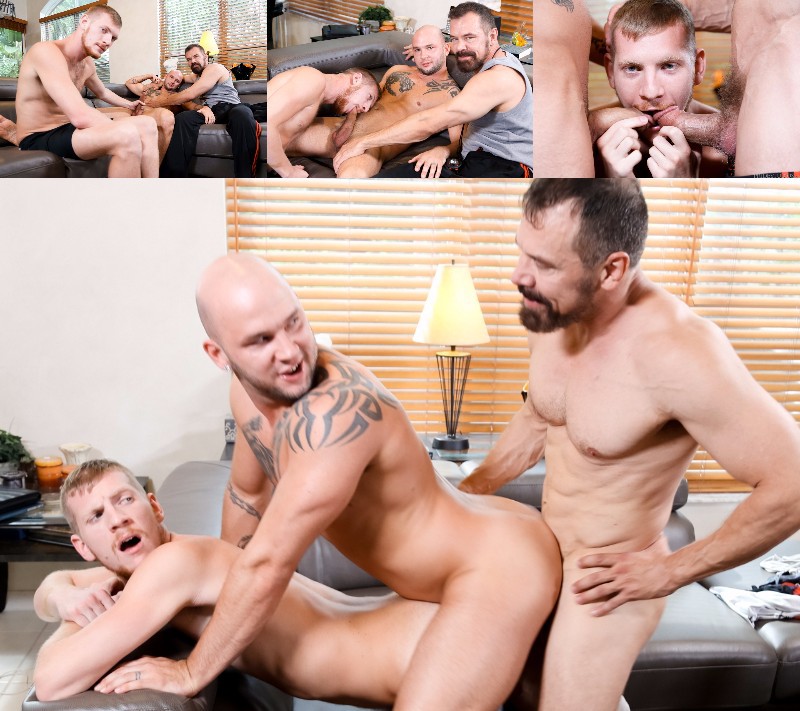 Max Sargent and Brayden Allen are lovers and they've been talking about bringing an extra bottom into their relationship. Sargent is a sports coach at the local college and he's got access to a whole team of guys who have been trying to get into his pants. Apparently Billy Warren has been flashing his ass at the coach in the locker room, so Sargent invites Warren over to try out as the couple's back-up bottom.
When Billy arrives the coach introduces him to his lover, then orders him to sit and watch. He can join in when the coach invites him. Billy watches the lovers swap head and sneaks his own cock out of his pants and strokes it. The coach orders his two boys to kneel on the couch so he can pick which ass he wants to fuck first. He's eager to try out Billy's ass, but he also wants to show Billy who's boss, so he picks Brayden's ass. He makes Billy watch as he pumps his lover's beefy butt.
Then the coach fucks Billy, and continues to go back and forth between these two hot butts. The bottoms pile up with Billy leaning over the sofa and Brayden leaning on top of him, then Max continues drilling them both. Max thrusts his dick in Billy's ass and Billy turns his head and says to Brayden, "Daddy's cock feels so good." Brayden leans in close, "Yes, it does." Finally, the coach lies back and lets Billy ride his cock and the horny bottom can't take it any longer and drains his nuts all over daddy's chest. But it's not over yet, Brayden and Max still have to blow their wads and Billy watches them.