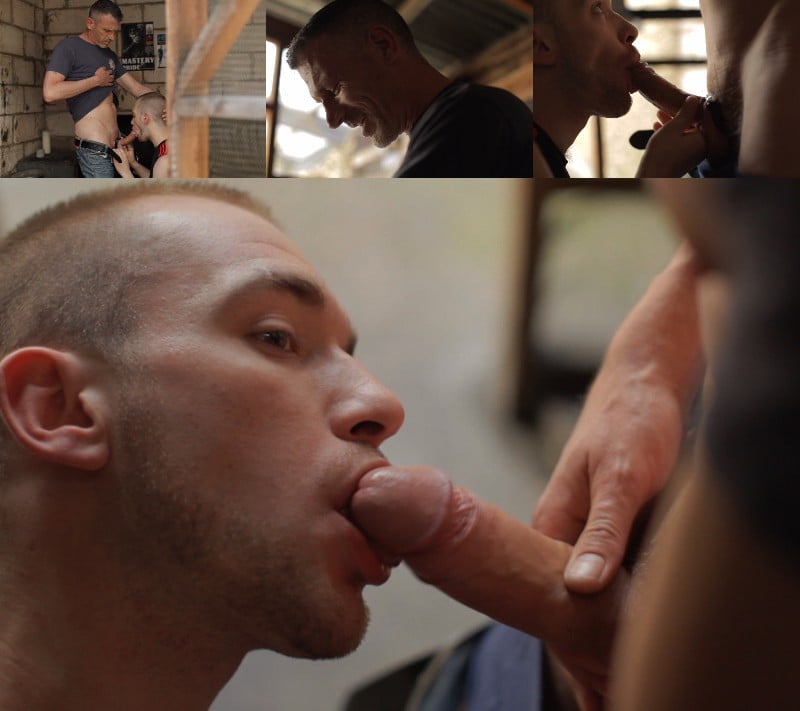 ---
Scene Pictures
Watch Lincoln Gates Blowing Sexy Daddy Max Lorenz
In one of London's most infamous leather bars cocksucker Lincoln Gates has been eyeballing Max Lorenz all night. And Lincoln's stares have not gone unnoticed. So when Lincoln heads outside, Max follows him.
Max Lorenz is a sexy fucker. A 40-something daddy with grey flecks across his temples and a day or two worth of salt 'n pepper face scruff. He finds Lincoln kneeling on the floor, so Max approaches, unbuttons his jeans and hauls out his sturdy uncut cock. This bone boy gets to work gulping and swallowing this daddy's meat.
Max has a perfect cock with a nice swoop, ample foreskin for an extra tasty treat, and a healthy pair of cum-filled nuts. Lincoln tastes every inch of his cock and slides right under the man sucking on his nuts, all the while looking up to make sure this daddy is enjoying his mouth. He is. Max takes over pinning Lincoln's hands and throat fucking him. This cocksucker is good and handles anything this daddy throws at him. While getting skull fucked, Lincoln jacks off and jizzes all over his belly, then opens wide and says, "Yeah, give me all your cum."