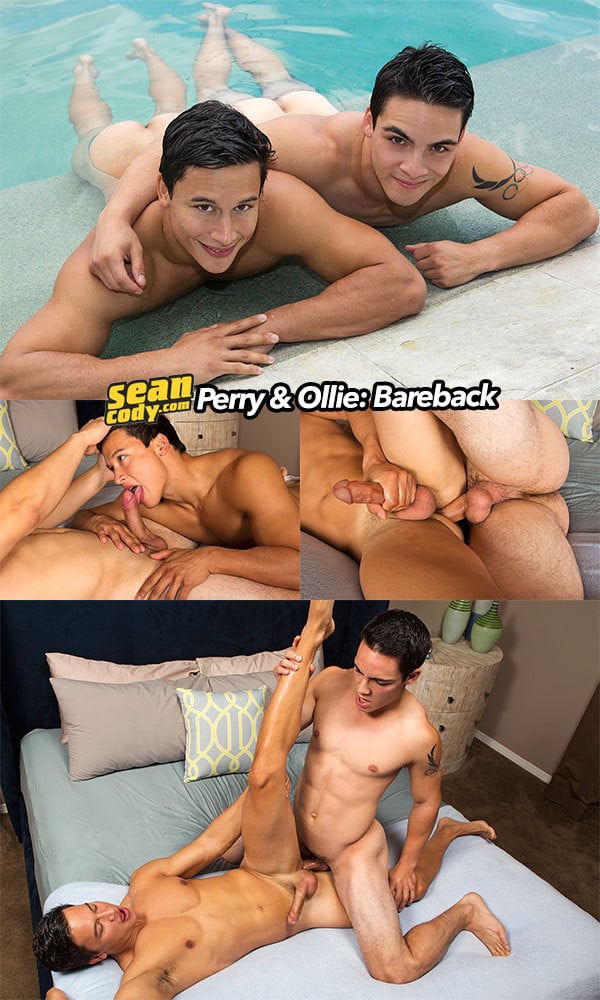 Perry and Ollie are two hot young straight guys about to do a bareback fuck scene for Sean Cody. They start off in the pool and show off their amazing bubble butts to the cameras - then they kiss and make out, with some incredible underwater shots, until they are both hard and horny and ready to move indoors and get down to business!
Before heading into the bedroom, they take a shower together. Washing themselves all over with soap makes their bodies shine, and the slipperiness makes them even more horny. They both have amazing bubble butts and even "shake their booties" side-by-side, then they back into each other and shake some more; as their butt cheeks rub up against each other, all slippery from the soap, they seem to merge together, which Perry seems to think is hilarious!
They move into the bedroom and Perry goes down on Ollie, sucking his cock lovingly, getting it nice and slick, ready to enter his arsehole. Once Ollie is up and ready to go, he gets Perry onto his back on the side of the bed and holds his legs up over his shoulders and pushes his hard uncut cock deep into Perry's waiting hole. The cameras get some great footage of his foreskin sliding back and forth over his cock head as it goes in and out of Perry's raw hole. The guys switch up their positions several times, and no matter what the position, Perry seems relaxed and able to take all of Ollie's cock quite easily. This is his first time bottoming at Sean Cody, so either he's a natural bottom, or he's well-practiced, as the fucking seems very natural, intimate and genuinely enjoyable, for both the performers, and us as viewers!