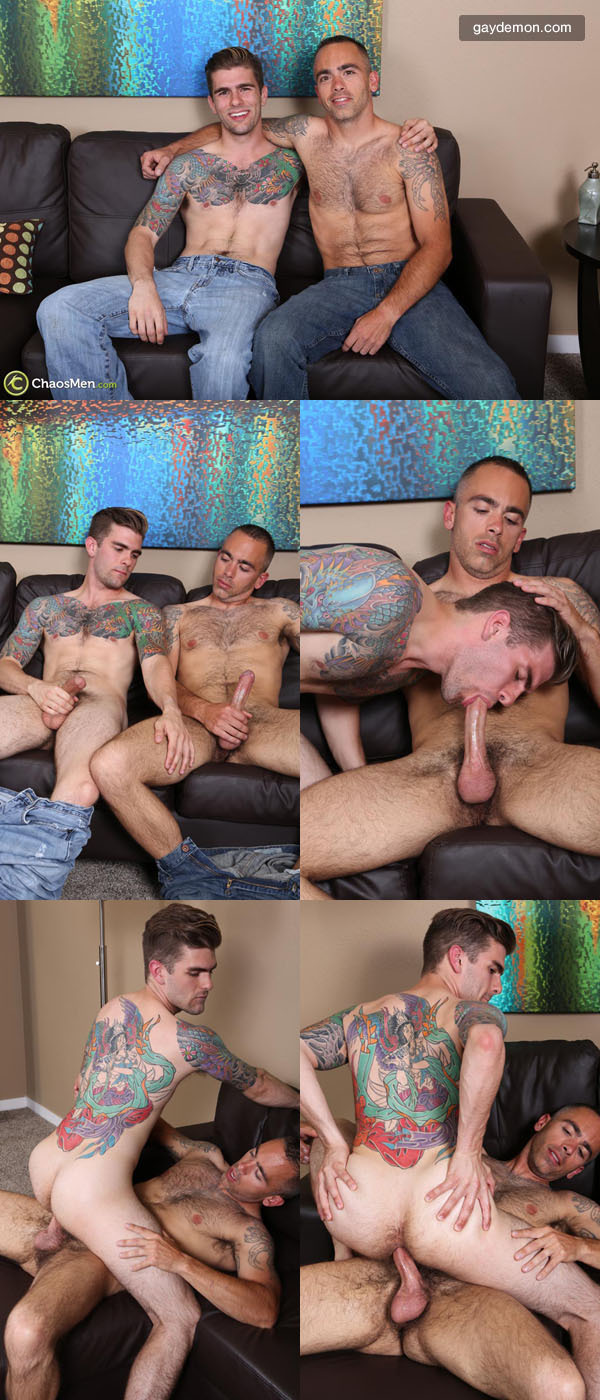 The Chaos Men cameraman has a silver-haired daddy model named Spiro who he likes to use in some of his videos where he's looking for a Dominant man to boss around some of the other more Submissive models. Today he tossed Spiro into a shoot with tattooed cock-sucker and bottom-boy Shiloh - but sometimes things never quite turn out as expected - as although Shiloh bottomed, he was in control of the action - is there such a thing as "A Bossy Bottom"?
Things start out with the guys sitting side-by-side on the couch watching some porn on the TV - they get naked and then Shiloh moves in and starts to suck on Spiro's cock. Then after some hot oral action, which got Spiro rock-hard, Shiloh moved further down, lifting Spiro's legs and started rimming his arsehole! Spiro was in heaven!
Then the guys mixed things up a bit and got into a hot 69 position, again, Shiloh was on top and controlling the action - sucking Spiro's cock while Spiro rimmed his hole - getting it ready for the bareback action that was soon to follow.
When Shiloh was ready, he got Spiro sitting in the couch and he took charge of the fucking too. He sat his raw butthole right down onto Spiro's hard cock, sitting squarely onto his cock, grinding and gyrating his butt, trying very hard to milk a load out of Spiro. But the dom in Spiro finally decided to come out to play, and he took control (or did Shiloh just let him think he was taking control?) and stands up and enters Shiloh from behind and fucks him like a dog. Then he turns him over, lifting his legs over his head and getting his cock in extra-deep for some major penetration before they both dump their cum loads all over the couch - which, being the good lad that he is, Shiloh quickly laps up!