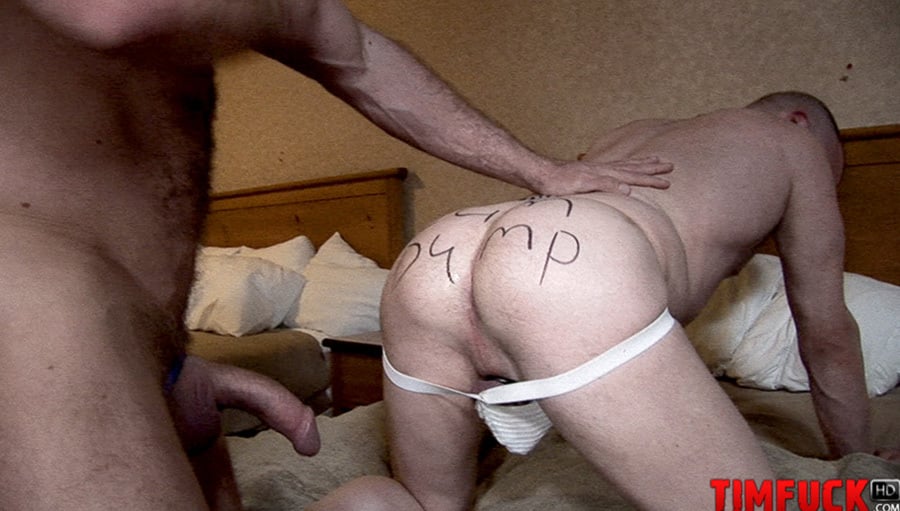 Patrick O'Connor is a self-proclaimed cum slut. When this TIM Fuck opens, muscle hunk Shay Michaels writes "CUM DUMP" across Partrick's ass with a black marker. Patrick wears the moniker with pride and can't stop grinning, well, until Michaels rams in his big meat and starts stretching his hole.
I never did really get the whole loading-taking culture, particularly the counters, you know, the bottoms who feel compelled to tells everyone exactly how many loads they took. I find the constant game of one-upmanship boring. So you took two loads more than me last night, does that mean you had twice the fun? Maybe you think it makes you a better bottom? It's the same with dicks: If I talk at the water cooler on Monday morning about the beautiful eight-inch cock I had on the weekend, someone will invariably have to outdo me with their story about the nine-inch cock. I'd much rather get one really good pounding from a decently-hung top (and even not get his load) than get 10 loads from a bunch of dudes who don't know how to fuck. Rant over.
Watching Shay Michaels pounds the daylights out of Patrick O'Connor gets me thinking that I wouldn't mind having him being that one decently-hung top I was talking about. He drills O'Connor right into that mattress. That kind of pummeling is awesome. At one point he's slamming hard and he grunts, "TAKE ... THAT ... DICK." Shay isn't in a hurry and takes his time pumping this bottom's ass, he wants to push Patrick over the edge and into bottom heaven. And I think he did. But Michaels does reach his limit and has to blow, so he creams Patrick's ass. Then Michaels shoves Patrick's sweaty jockstrap into his mouth and wraps his arms around the worn-out bottom for a cuddle.