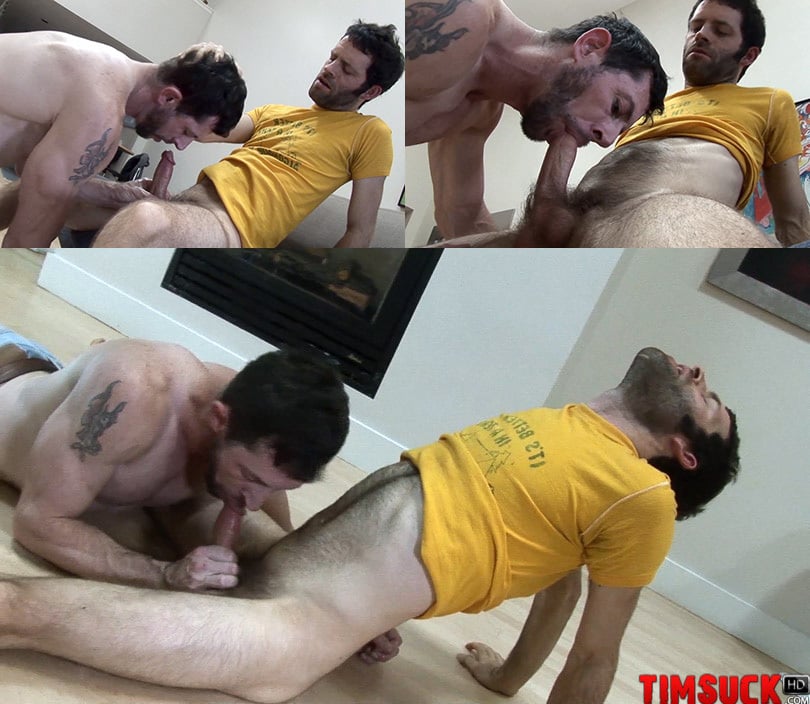 Michael Milwaukee isn't the kind of man who just sits back and gets head. He's no do-me queen; he's a full-engaged participant in his blowjob. And that's alright by Shane, he's an enthusiastic cocksucker who can take a vigorous throat throttling. TIM Suck paired these two men up for one of the wildest oral scenes I've watched in a while.
Shane is down on his knees gulping Michael's bone, which isn't huge, but it's a damned good size. Michael sits on the very edge of the sofa watching Shane work his magic. Suddenly, Michael grabs Shane's head in both hands and lifts it towards him and kisses his blow boy deeply. Then Michael lies back on the sofa and Shane licks his bare foot and sucks his toes before returning to his gulping. This time, Michael wraps his legs around Shane's head and puts his feet across his back and enjoys Shane's mouth.
Michael decides that his cocksucker isn't doing it hard or deep enough, so he grabs two fists of hair and rams Shane roughly on his erection. Then he pushes Shane off his cock for another kissing session before standing and going to town on Shane's throat for another round. Shane shows how well he can deep throat, Michael holds his head tight and grinds his cock head in the back of Shane's throat. You wanna learn some moves for your next head session? This scene will give you lots of inspiration whether you're giving or receiving.