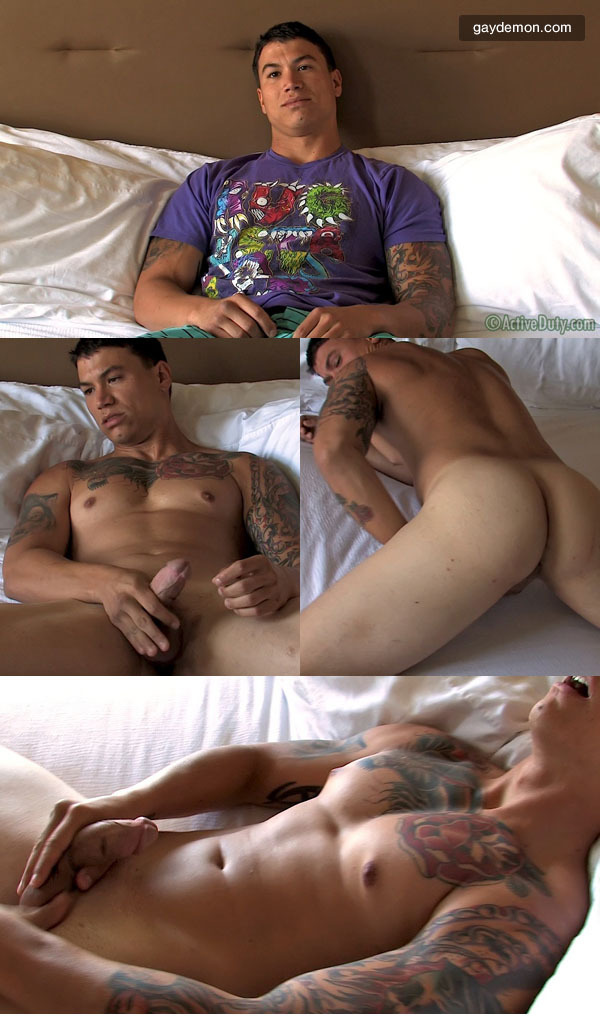 Check out Rod, the newest recruit over at Active Duty. He's a hottie for sure, with a big beefy frame, tattooed arms and upper chest, smooth torso and a nice fat uncut cock which he beats off for the camera here in his first ever porn shoot.
He starts off like all newbies, on the bed, fully dressed, naturally a bit nervous as jerking off on camera is totally new to him, but he's prepared and kinda knows what's expected. He's ready to put on a good show, and starts to strip off his clothes, and we can now get a look at his amazing body. Being 5ft 11in tall and weighing in at 185 lbs, you can be sure this guy is built like the proverbial brick shit-house. Add to that a nice sized uncut cock, which gets rock-hard real fast, and we know we are in for a great show!
Rod takes his hard cock in his hand and starts to stroke it. As he stokes we get to see that It really is a nice size, and fat, and that he has nice low-hanging balls too! Then he rolls over and gives us a great view of his butt cheeks and his hole (yes, it's another proverbial one, a butt to die for!), before rolling back over to stroke out that load we have all been waiting to see - nice debut Rod!