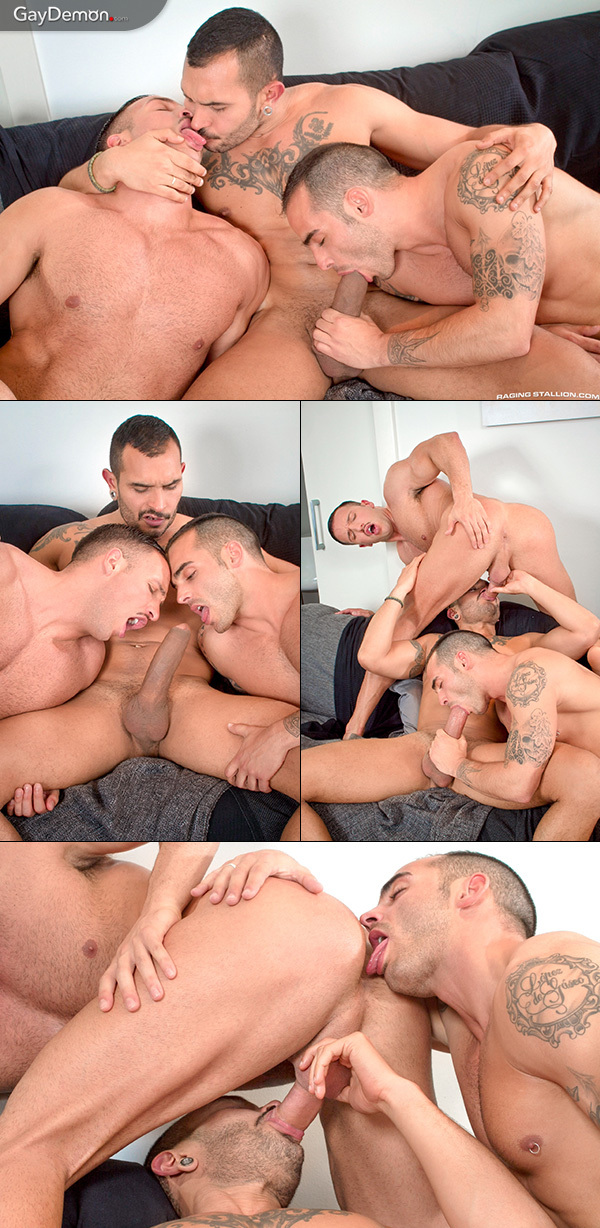 Donato Reyes and Lucio Saints are playing a pair of lovers in this new Raging Stallion video from their new DVD called Sexo en Barcelono. Donato and Lucio have hired a hustler for the evening and the scene opens with Donato opening the door to let Adrian Toledo into their condo.
Donato is looking sexy with his 1940s movie-star pencil moustache and slicked back hair. Lucio is naked on the couch and stroking his big dick, impatiently waiting to get this threeway going. Toldeo sees Lucio's massive dick and like a cock hound, he's on his knees. The three men get into a wet and sloppy sucking and kissing session, no mouth is left long without something to do. While Adrian blows Lucio, Donato pushes his ass onto his lover's face.
But my favourite part of this threeway has Adrian and Donato stacked on the couch with Saints alternating and stuffing one hole, then the other. This drives the guys nuts as they wait their turn for Saints' huge cock while hearing how much the other is enjoying getting his hole plugged. In the end Toledo gets just what these lovers paid for: Donato sprays his cum load across the escort's torso, then Adrian's balls unload across his cum-soaked belly and chest, and finally Lucio's monster lets loose like a firehouse. I hope they let Toledo take a shower before sending him on his way.