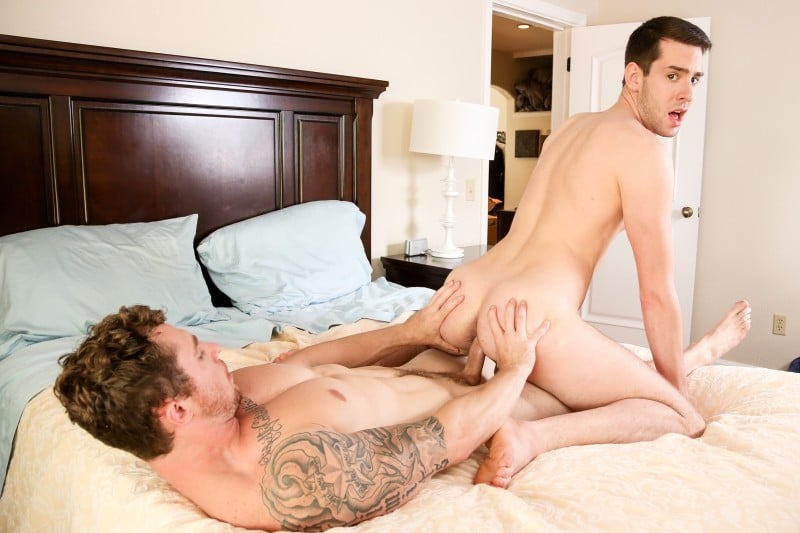 Get a 1_Day Trial for $1.00 - Try Out Next Door Raw
Tomorrow's moving day and roommates Markie More and Lance Taylor have been packing their stuff. Heading into More's bedroom Lance says it'll have to wait until morning since they have to sleep in it. Straight guy Markie is taken aback and says he's never slept with a guy and doesn't intend to start now. "Besides, I know you'll try and touch my cock," More adds.
Lance assures Markie that it'll be fine, but teases, "You'd probably like it though." Markie doesn't rebuff him, so Lance doesn't even wait for bedtime and reaches for his roommate's crotch. Markie has thought more than once about fucking his gay buddy's ass, but he was always too afraid to make the first move. Now he doesn't have to.
Lance pushes Markie back on the bed, pulls down his shorts, and kneels between his legs. He swallows his buddy's cock, but checks to see if Markie is feeling weird by the exchange. Markie's eyes are closed and he's in heaven, so Lance continues. Then surprisingly, Markie sucks his buddy's dick, then pulls him on top for some 69 sucking. This is going much better than Lance thought, so imagine how thrilled he is when Markie says that he wants to fuck his ass. Raw!