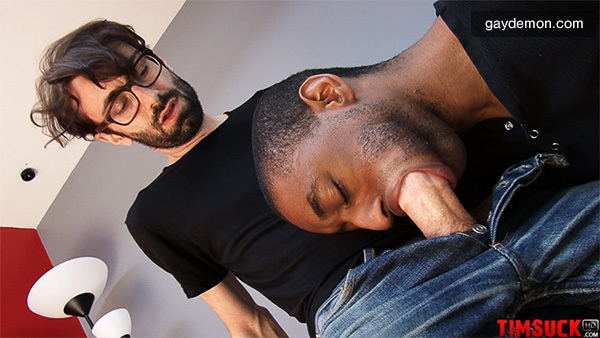 I complain a lot about lousy cocksuckers in porn. Who wants to watch a guy giving a just-the-tip blowjob? Rogan Hardy is a full-service blow boy who loves sucking giving head and he's fantastic at it. Rogan brought along buddy James Chance -- a prop if you will -- to show off for the cameras over at TIM Suck.
The first thing you need to know about James is that he had stored up a four-day load for Rogan. They've play before and James must have been going out of his mind waiting for this day to arrive. The second thing is that James loves pumping his bone down a cocksucker's throat and the third thing is that his dick is thick.
None of that matters to Rogan, he just opens his mouth and swallows balls deep on the first gulp. James tries watching, but it feels too good. James closes his eyes and moans softly. James lets Rogan have his fun, but he has to take over or that four-day nut is going to explode down this buddy's throat, and that'll make for a short scene. Rogan holds James's head in both hands and fucks his mouth with steady deep thrusts. Rogan wraps his lips around James' fatty and takes whatever his buddy wants to hand out.