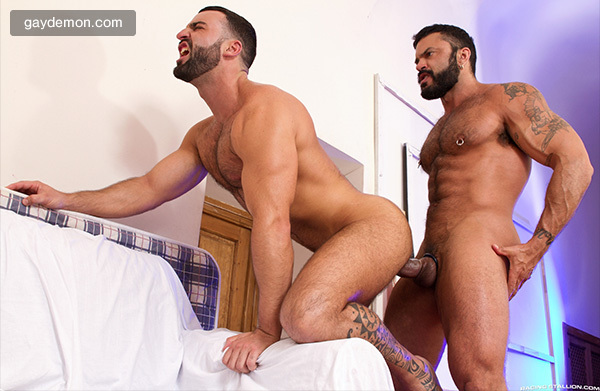 If you were around last week no doubt you saw Rogan Richards' big debut as a bottom over at Titan Men. And this week he's back and giving Abraham Al Malek a signature Rogan rough fuck in Raging Stallion's "The Tourist." (If you missed my post "Did I Need to See Rogan Richards Bottoming?" you can see previews there.)
I think this is actually the second video I've seen with Rogan Richards topping in the last week, it's almost as if he's overcompensating for that bottoming slip. I don't know, maybe Richards secretly likes getting boned. Who could blame him? A cock up the butt does feel wonderful. But seriously, things don't happen that quickly in GayPornLand as scenes are filmed weeks and months in advance. But with Rogan Richards being at the top on my bucket list (the pun is intentional), I'm glad to see him back dominating ass.
And this is a rough scene. Abraham picks Rogan up on the street -- neither speak the other's language -- and once inside Abraham's apartment, he pushes Rogan into the wall and smashes into him with a frenzy of kissing and armpit licking. The clothes come off and Abraham is on his knees deep throating Rogan's fatty. The two make it to the bed for some more sweaty thrashing around -- kissing, sucking, ass eating -- and then Abraham bends over the couch for a hard, sweaty pounding.
Rogan: It's good to have you back and watching you do what you do best. So about that bottoming thing last week, it was a one-time thing wasn't it? We all make mistakes every now and then, so let's put it behind us. Let's move forward to many more scenes of you fucking the daylights out of horny bottoms. Okay? You're a brute and we love you that way. Hugs.