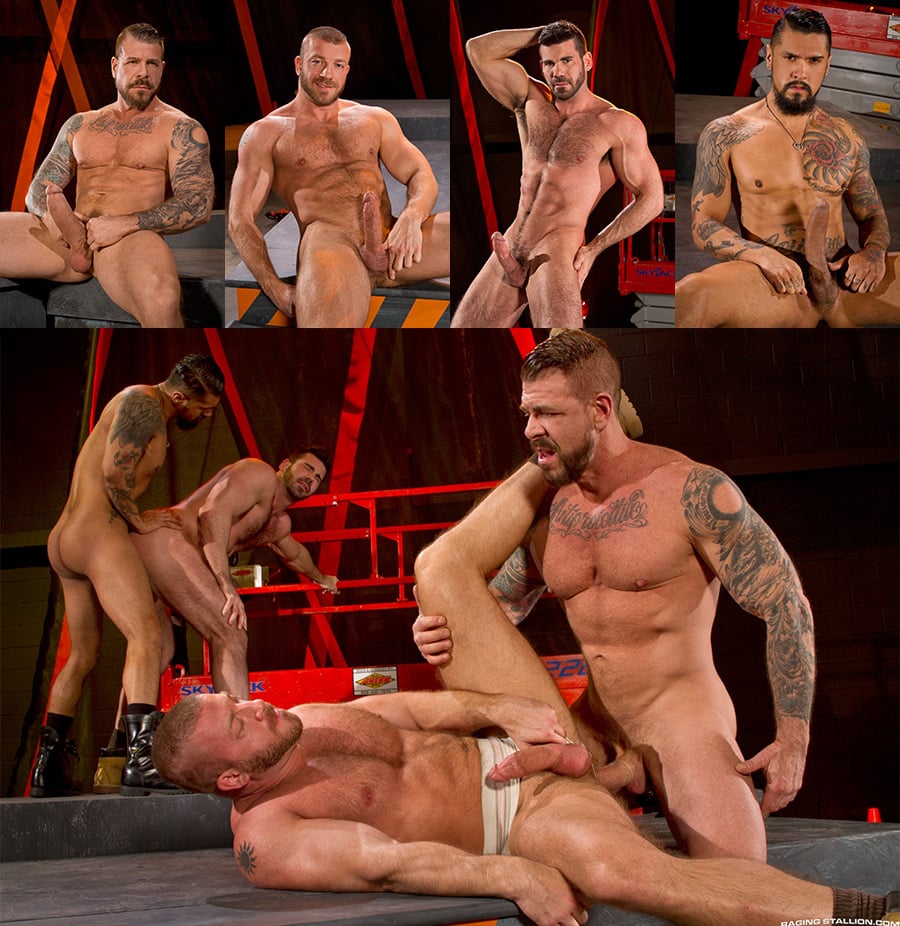 When the second DVD in the Clusterfuck! series started rolling out at Raging Stallion, they curiously released the last of the four episodes first (the one where Boomer Banks bottoms for Rocco Steele), then last week they took us to beginning of the fourway that spanned three scenes, well, sort of. Hunter Marx, Boomer Banks, Billy Santoro, and Rocco Steele play together in the first part and Rocco Steele drills Hunter Marx while Boomer Banks fucks Billy Santoro, then Rocco also fucks Boomer before everyone cums and we head into the second part with Hunter and Billy boning each other.
When a bottom is faced with servicing a 10-inch cock, do you envy or pity him? How about two monster dicks? Is he still a lucky bottom? Can a dick ever be too big? If I saw Rocco Steele walking the halls of my favourite bath house, I'd definitely be charging after him like the proverbial bull in the china shop and pushing all competition out of my way. Everyone should give a 10-inch cock a try at least once. Would I want to marry a man with nearly a foot of dick? I suppose a guy can get used to anything, but it's exasperating thinking about sitting on something that big two or three times a week. How about you?
I was most excited about watching Hunter Marx bottom for Rocco Steele. Marx is normally a Titan Men exclusive, but a little while ago they agreed to loan Marx to Raging Stallion for a few scenes in exchange for their exclusive Shawn Wolfe. (Wolfe's scenes haven't shown up on Titan yet.) Not only does Marx takes Steele's humongous dick superbly, but he's still able to walk and takes a crack at Boomer's ass. And in case you're wondering, Rocco doesn't fuck Billy in Clusterfuck! but they did screw in Bang On!, which was released a few weeks back.