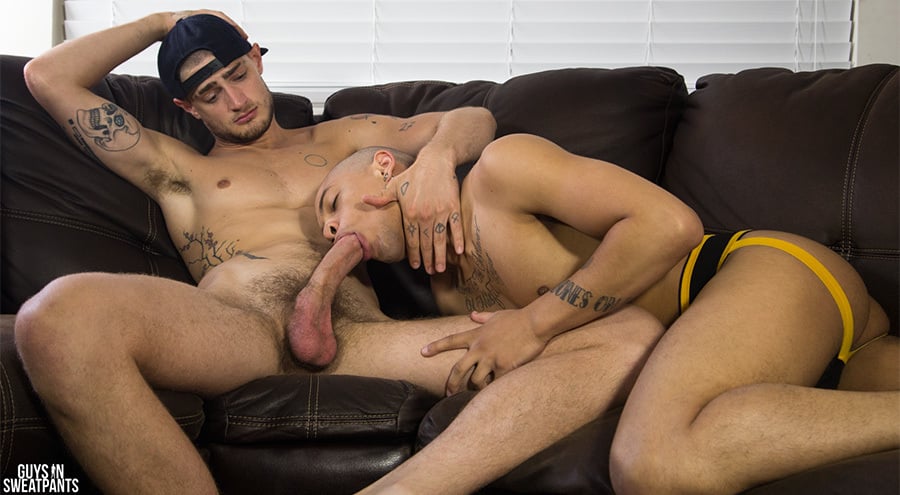 River West looks like one of those bad boys your mother warned you about. He's scruffy faced with tatted knuckles and lots more ink haphazardly placed all over his body. His short cropped hair gives him a menacing look, but he's dons a backwards baseball cap while he fucks Elliott Blue in this Guys in Sweatpants video. But the one thing mother didn't know is that River West has a huge, long cock, and no amount of cautioning is going to keep a horny bottom away from that -- not me anyway, or Elliott Blue either.
A couple of summers ago, I was cruised on the street by a guy who looked just like River West. He looked like a heap of trouble, but I was hooked. I'd later find out that he was a hustler, a drug dealer, a man of all nasty trades, and yes, I also discovered late one night that he had a giant cock. I ran into him on a 3 a.m. insomniac's cruise through the neighbourhood and took him to the bathhouse around the corner. After stuffing my ass with his considerable penis, I left him in the room because he had nowhere to sleep that night, and I headed home. I saw him around the neighbourhood for a while longer, then he disappeared. Funnily enough, just the other day I passed him on the street -- first time in a couple of years -- and now this scene with River West reminds of him all over again.
River sits back on the couch with his long legs spread wide and Elliott Blue gulps on his big dick. When Elliott takes a break to breathe, River pushes his hard-on forward with his thumb so it's sticking straight up in the air. "Spit on it," he growls. Elliott does, then River rams his head down on it. Then, with Elliott down on all fours, River spits on his hole and slides his bone deep in his ass -- one push, no time to get use it to. But Elliott takes it and a lot more -- River might look like a bad boy, but he's a good fucking top.
See more at Guys In Sweatpants