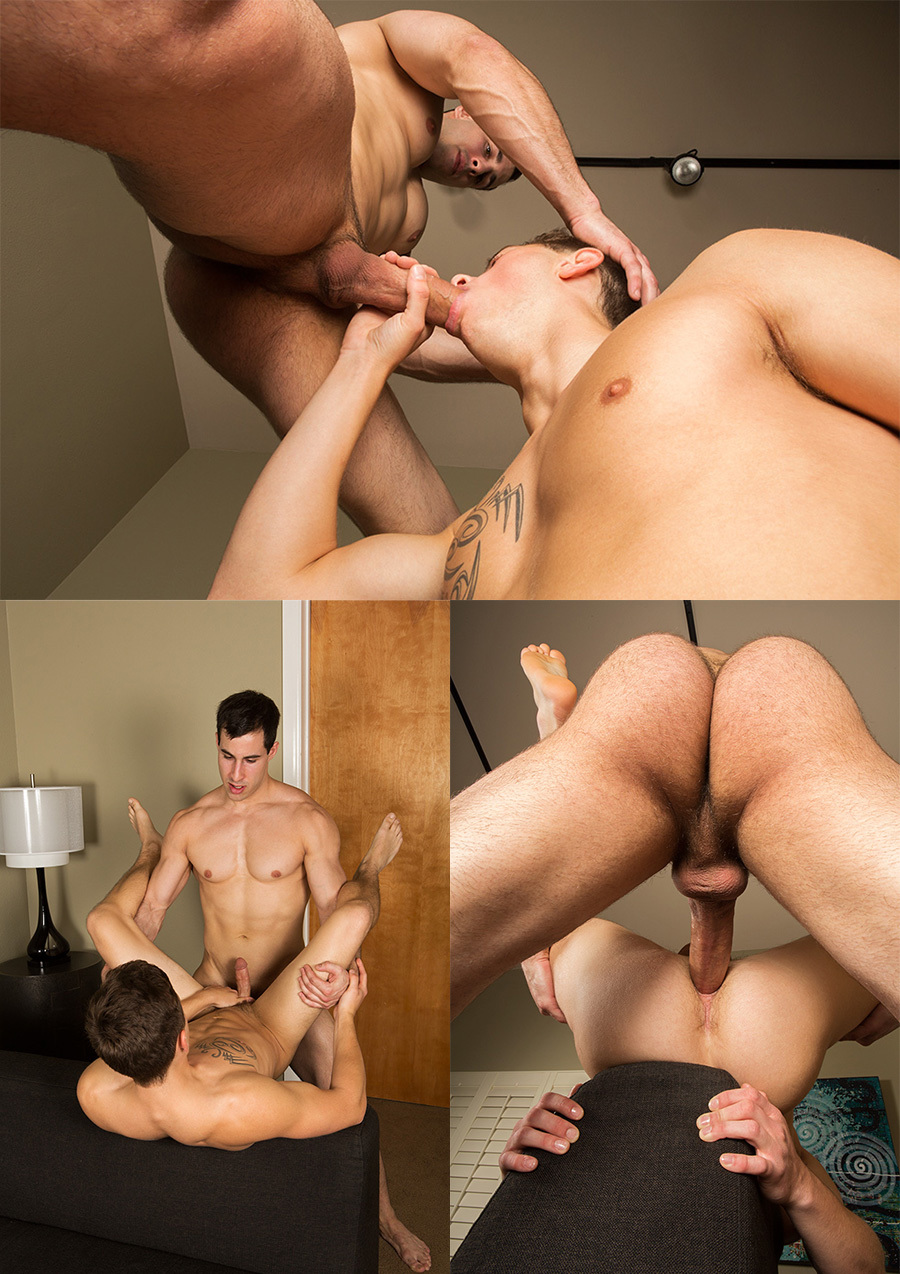 I love watching a big cock sliding into a small butt. Not only does it look like we're about to see an impossible feat, but it's an optical illusion where that small bum adds inches and girth to an already super-sized penis. In this Sean Cody video, Lane is bent over the arm of the sofa and Randy is steering his cock towards the pucker between Lane's tiny cheeks. "Oh man, that hole's so small," Randy says, then smearing some more spit on it he adds, "It's so fucking tight." He pushes in anyway.
It looks like Lane is the new go-to bottom at Sean Cody. He only started at then end of March and he took Forrest's severely banana-curved dick up his tiny bum, then he sat on Oliver's cock (Oliver himself is new), and now, Lane has Randy pounding his hole. Clearly the lad likes a big dick up his ass. So while drilling Lane, Randy grabs Lane's hands and puts them on the small of his back, and he holds them there while he continues fucking. I don't know if this is an individual guy thing or a Sean Cody producer thing: I've seen ginger top David do this a number of times, and I know I've seen others. Regardless, it's hot.
The best part of this scene comes near the very end. Lane lies on his back, and leaning on his shoulders, he hoists his bum up so it's resting against the sofa, then Randy stands over him and lowers his big dick into Lane's gaping ass. What a sight! If you haven't blown you load by now, you will any second. Randy plunge fucks and Lane strokes his way to the finish line, and with Randy thumping his prostate it's not long. "I'm gonna fucking cum," he says over and over, then he drops his heavy load on himself and we watch this stream of jizz slide between his pecs and pool in the divot under his Adam's apple. And by the way, Sean Cody is now showing cumshots in their preview videos, so you'll actually get to see that if you head over there.