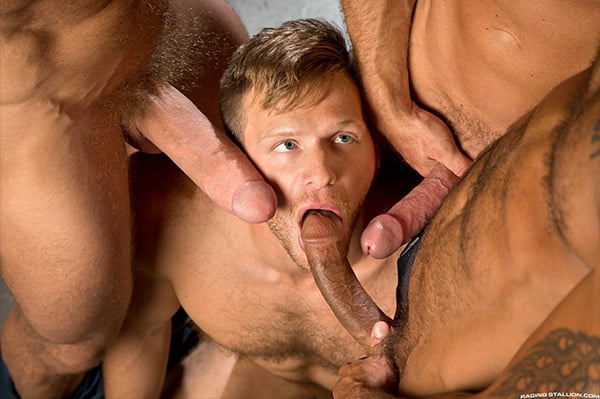 Do you recognize any of those cocks? Brian Bonds is a very lucky guy. He broke into this warehouse and brought along his knapsack full of dildos figuring it was a good place to have some alone time with his favourite sex toys -- a little danger, a little thrill. But he got caught, first by one security guard who shoves those dildos up his ass, and then two other security officers came along to stuff Brian's mouth. Come inside and see if you've guessed right on any of these three big cocks.
So if you follow me here at GayDemon, you'll probably already know that Mitch Vaughn was the security guard to catch Brian Bonds in the warehouse. And he gave Bonds' ass a good workout with those dildos and his own cock. When the second scene of Raging Stallion's "Guard Patrol" opens, fellow security guards Rocco Steele and David Benjamin run into the warehouse and find Bonds sucking Vaughn's dick. The first officer explains he found this thief in the warehouse and he's been holding him until back-up arrived. Relieved that everything's okay, Steele and Benjamin haul out their big dicks.
Rocco doesn't waste any time, he pushes his monster dick in Brian's face and the cocksucker happily gets slurping. I've watched a lot of guys try to suck Rocco Steele's dick, but Bonds is one of the few who does a decent job -- he even deep throats it a few times. While Mitch and Rocco are stuffing Brian's face, David shoves his long flashlight up Brian's ass. But the best is yet to come: all three security guards circle around Brian and shove their dicks in his mouth and shower his face and body with cum.