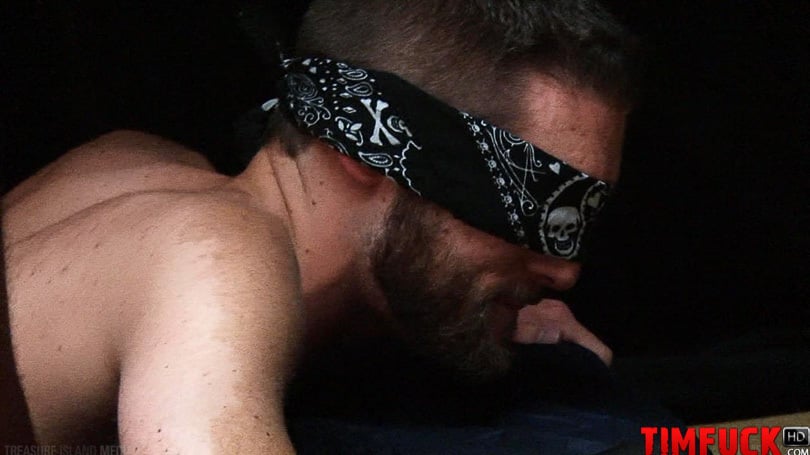 Jay Banks loves getting his ass serviced, so TIM Fuck recently tied him to a mattress and tied a bandanna around his eyes, then they invited a couple of hung tops to fuck his ass. Jay had no idea who these men were, in fact, he's getting his first look at them just as you are now. Come inside and see who filled Jay's ass.
Could you do it? Could you let yourself be blindfolded and tied to a mattress? Could you let an anonymous top stuff your ass? How about two? I think it's a terribly exciting scenario. I've told this story before, but one night at my favourite bathhouse, a masked man saw me on my knees in my room. He came in, sat on my bed, and I sucked his cock for the longest time. I could only see his eyes and lips and it drove me absolutely nuts trying to imagine how he looked under his mask. Was he younger or older? Handsome or not? Was he someone I knew, or maybe just a passerby I recognized on the street, or a complete stranger. The sensory overload was intense. It was such a turn-on and remains one of my all-time top ten sexual experiences.
Bamm Bamm and Billy Blanco are the hung top's servicing this cock pig's ass. There's no foreplay. Billy Blanco walks in, straddles Jay, and shoves his huge cock inside his hole. There's not even any warm up, well, you wouldn't expect there to be with a top named Bamm Bamm. Billy doesn't mind being sloppy seconds, he likes fucking a cummy hole and Bamm Bamm has left him a nice load to work with. Likewise, he drills Jay with little regard for anything except how good this hole feels. He unloads, climbs off, and spreads Jay's ass to check his work, then leaves. So how about it? Hot or not?