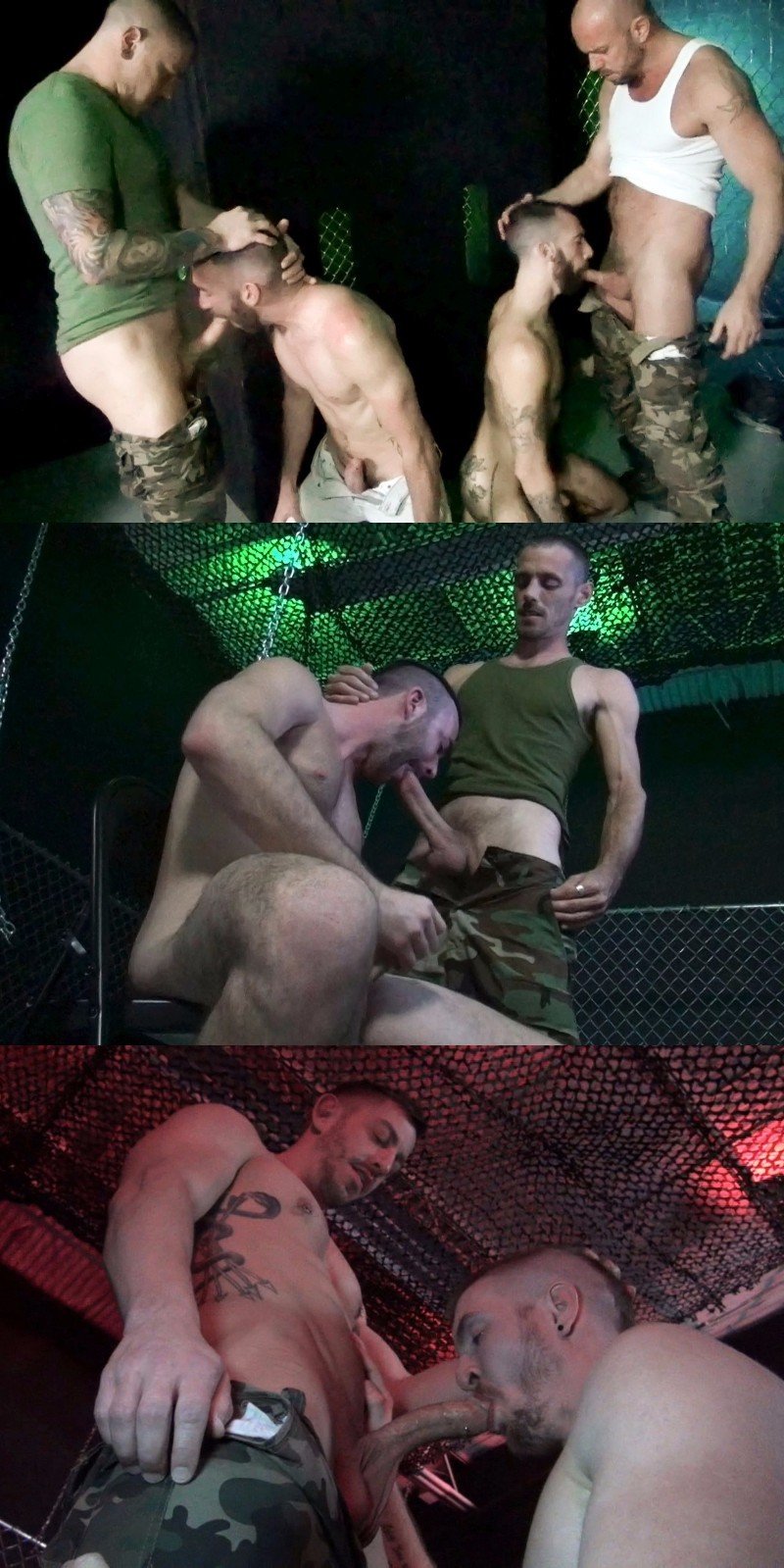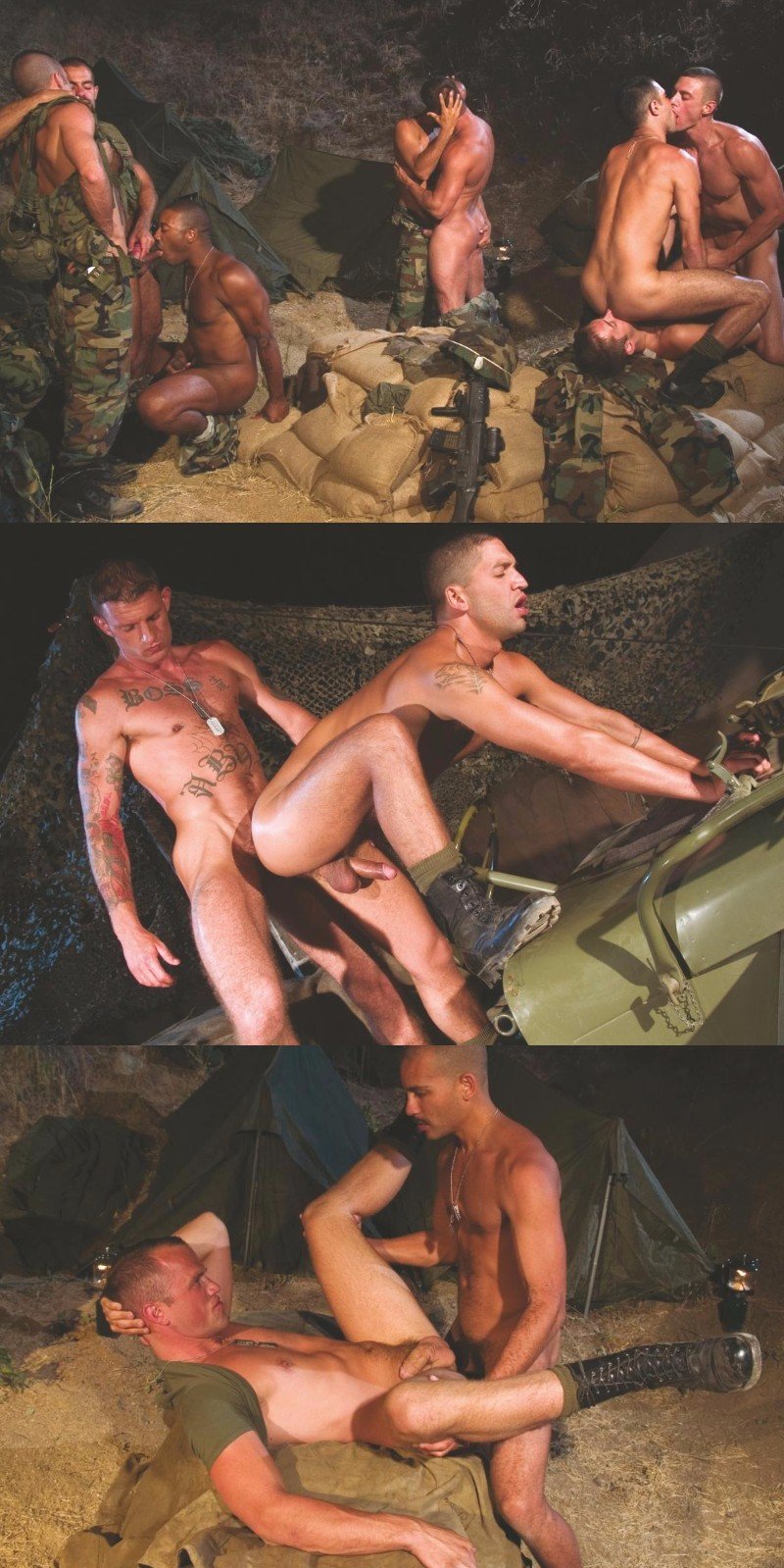 Watch "Gaytanamo" at Raw Fuck Club
We are fascinated with military men. And why not? I've seen more than a few marines I'd like to be under when they're ordered to drop and do 20. Pornland knows we love soldiers, sailors, and marines, so they keep pumping out movies. But with few exceptions, most military porn scenes amount to a couple of guys in camouflage pants, maybe an army green tank top, and dog tags around their necks. They spit out a couple of flimsy lines and get down to fucking.

Raw Fuck Club has produced a series called Gaytanamo and it's into its eighth episode. But disappointingly Gaytanamo is set on a filming sound stage bordered by a chain link fence with camouflage netting and green lighting suspended overhead. Some of the men wearing camies and ARMY tanks, others don't. In one scene, prisoner Alex Mason wakes up tied to a chair with a soldier ready to interrogate him, but don't get too excited, as soon as Alex opens his eyes Brett Bradley says, "Good, let's have some fun." He shoves a bottle of poppers in Alex's snoot and the interrogation is over. Blink and you'll miss it.
Most of the eight scenes go this way, although one did have military style bunk beds. Don't get me wrong, the sex is hot with porn studs like Max Cameron, Matt Stevens, Stephen Harte, Eli Lewis, Sean Duran, Trey Turner, and Bryan Cole. But you'll have to stretch to imagine these guys are soldiers.

Hands down, the best military-themed porno of all times has to be GRUNTS by Raging Stallion. It was at the tail end of the studio's glory days when they still filmed big-budget movies with a cast of a couple dozen. GRUNTS starred Ricky Sinz, Roman Ragazzi, Max Schutler, Steve Cruz, Justin Christopher, Mason Garet, RJ Danvers, Kamrun Assher, River Fiasco, Jake Deckard, and others and the collector's edition box set features six discs and had real military action including boot camp and drill sergeants bellowing orders while getting their dicks sucked.

Raging Stallion went to great lengths and expense to create a real boot camp setting complete with tents and a mess hall and we watched the soldiers going through manoeuvres and target practice before getting into horny sucking and fucking, much of it outdoors. There were uniforms, guns, and even a jeep or two. If you haven't seen it, it's worth checking out.

Unfortunately, it wasn't long after GRUNTS that tube sites and free porn ravaged Pornland and made big budget productions a thing of the past. Now, we get to watch guys in army green tank tops fucking in front of a chain-link fence and we're supposed to believe they're soldiers.

Sadly, many Pornland productions lack creativity and often don't live up to their titles and the DVD cover art, I'm not only talking about these military fraudsters. I get it, studios are struggling to eke out revenue from a largely freeloader audience that never actually buys any porn. Surfers complain that a lot of porn is boring and lacks imagination, studios blame tube sites for the glut of free porn that makes financing higher quality productions impossible. And round and round we go.
Watch Grunts at Raging Stallion Studios