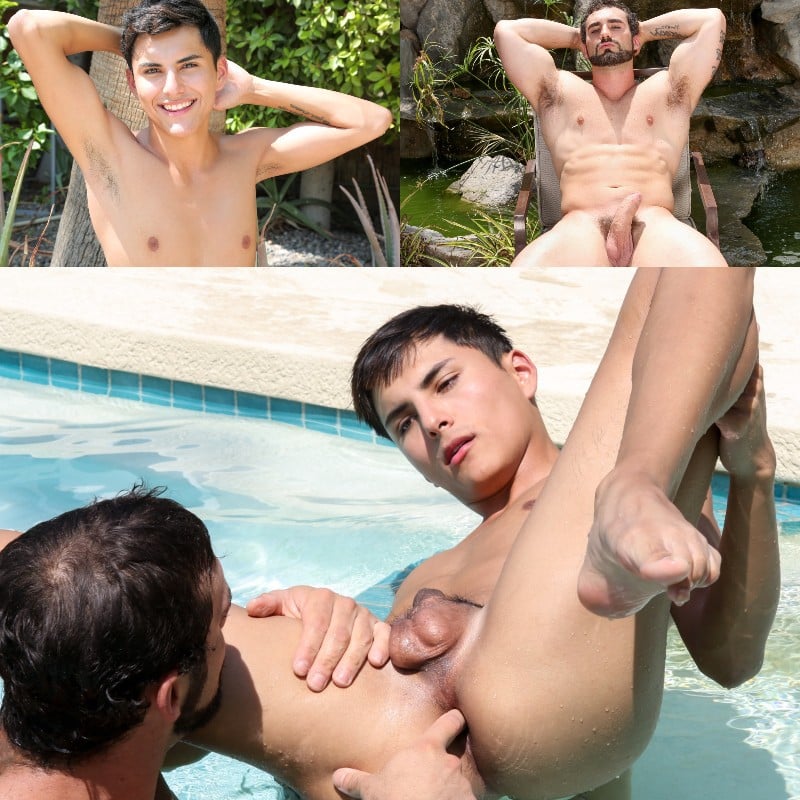 Get a 3-Day Trial at Dylan Lucas for $1.00
Jaxton Wheeler works at this rich guy's estate taking care of his pool. It's a pretty hot afternoon and Jaxton has worked up a sweat. He looks around, then with no one in sight, he pulls off his shorts and cools down in the pool. When he emerges from a deep dive, Marco Montgomery, the rich man's son, is waiting for him at the other end of the pool. Wait until you see what happens.
Standing on the pool deck with his arms folded, Marco Montgomery lets loose: "So you think it's okay to put your dirty body in our clean pool? Do you think my Dad is going to be happy about this?" Wheeler shrugs, then says, "Well, we don't have to tell him." The rich boy squats and goes into full-on self-titled mode: "Look, there are a lot of things I don't have to do, but what are you going to do for me?"
Wheeler pulls Marco into the pool. The lad is furious at first and says, "That's not what I wanted." He walks towards Wheeler saying, "This is," and plants a deep kiss on him. The horny thing about this scene is that Wheeler is so big, his strong, muscular physique makes this slim lad look even smaller. The two head inside and put blankets down on Dad's couch so they don't get it covered with sweat, lube, and cum. And when Jaxton lines his big cock against Montgomery's smooth hole, I thought, "Oh man, this is going to be a tight squeeze."