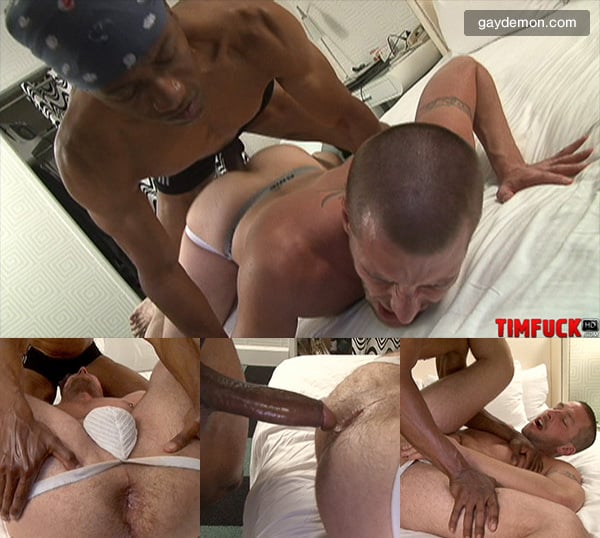 If you ever get a chance to bend over for Jerry Stearns, do it. The man is a skilled top. A lot of hung men just ram their cocks in a guy's ass and pound, they have no idea what it takes to be a bottom. But Stearns knows how to make a bottom's ass feel good. He consistently get bottoms taking every inch of his cock and they're begging for more -- harder, deeper, or faster -- which is why Jerry has appeared in dozens of scenes at TIM Fuck.
I've been watching Jerry Stearns for a lot of years and he never ceases to amaze me. He's got a huge cock, but he knows that a butt hole needs to be warmed up before it's ready for a full-throttle thrashing. Joe Rocco is down on all fours presenting his furry ass crack over the edge of the bed. Jerry lines up his hard-on and very slowly slides it in. He doesn't meet any resistance and keeps going until he's balls deep on the first thrust.
Stearns takes his time with slow in and out strokes, then every so often he pulls right out, then goes all the way back in. Rocco is loving it, you can hear him moaning and gasping. Stearns fucks like this for a couple of minutes, then checks out the terrain with some faster pumping. "Fuck yeah, give it to me," Joe pants. He's is ready.
Stearns pushes Rocco on the bed, climbs on top, and pounds the hell out of him. "Please, give it to me," Joe groans again. And Jerry does, for about 20 seconds, and then he's back to his slowly fucking tease. Stearns carries on like this and by the time he's done with this fuckslut, he's peeling Joe off the ceiling.