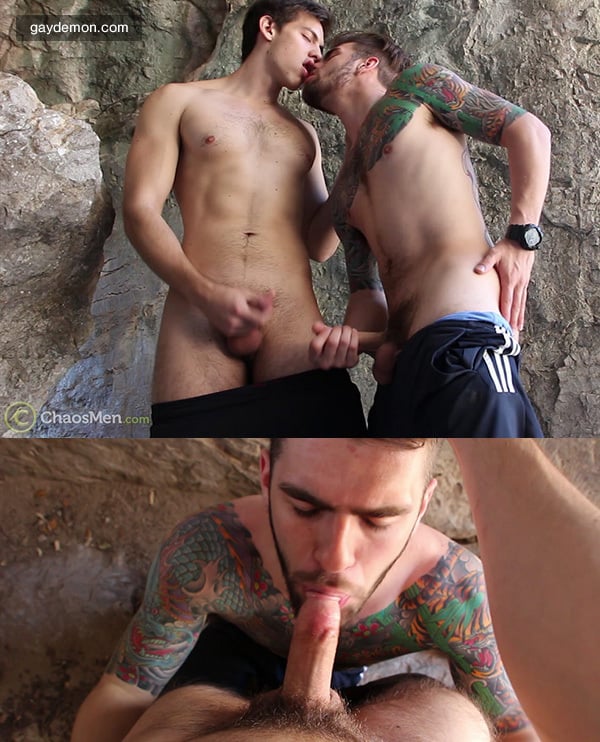 I don't know if I'm just a Debbie Downer, but I always found that outdoor sex looks a lot hotter in porn than it is in real life. Don't get me wrong, I've given my fair share of blowjobs in Toronto parks, but between mosquitoes, thorny plants, mud puddles, curious onlookers or trolls wanting to join in, and cops looking to bust you, it's not always the most comfortable way for a guy to satisfy his craving for dick.
Shiloh is one of the hungriest cocksuckers over at Chaos Men, he's blown quite a few guys already in his short time on the site. Site owner Bryan Ockert wanted something a little different and gave Shiloh a camera and sent him off to do a Peep video. And rather than setting up a camera in his bedroom and jacking off, Shiloh grabbed a buddy and headed for some nearby caves to unload their nuts.
With nothing but rocks to shred a guy's knees, Shiloh said that fucking wasn't really an option. So Shiloh and his buddy Greyson took turns squatting and blowing each other. Shiloh finally drained his balls all over Greyson's chest, then after shooting on his belly, Greyson enjoyed watching Shiloh cleaning up the mess with his tongue. They did some cum kissing too.
So how about you? Have you had some hot outdoor sex? Or do porn videos make it look way hotter than it is? Let us know in the comments below.