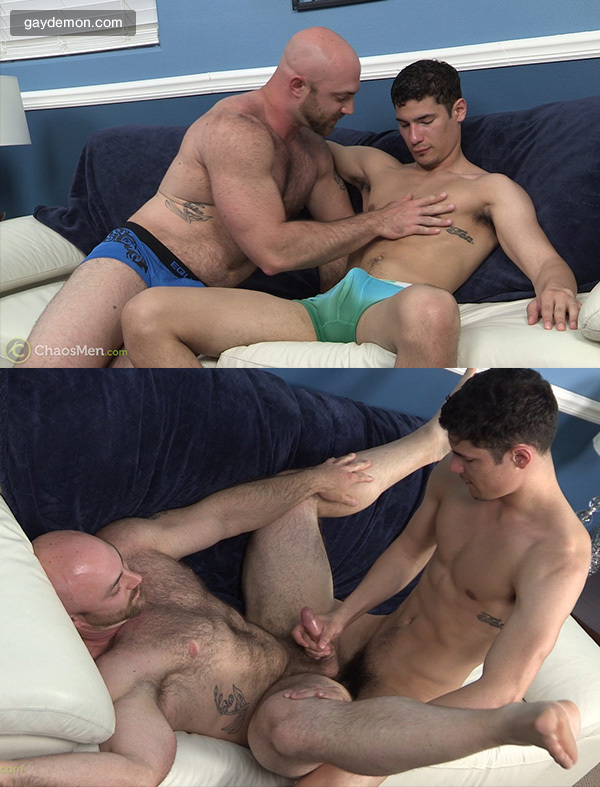 It's not surprising that 22-year-old Troi has only bottomed once in the 14 videos he's shot for Chaos Men. He's got a 9-inch cock with a huge mushroom head -- who doesn't want to see that filling up a guy's ass? Don't worry, this isn't going to be another rant about big-dicked bottoms, I went off on that one last week, so I'm good for a while.
What I like about the pairing of Troi and Tatum is their difference in size. It's hot watching a smaller, leaner guy dominating a big muscle hunk like Tatum. Well, I say "huge," but it's really an optical illusion: Tatum is only 5'8", but when you pack 180 pounds onto a shorty, it doesn't take long before they start looking impressive. And even though Troi is three inches taller than his scene partner, Tatum outweighs him by 30 pounds. And that's what makes the scene fun.
Look at Tatum's massive thighs, they're twice as thick as Troi's. Tatum's got a great big ass too and he loves getting it fucked, and has bottomed about 12 times for Chaos Men. Watching slender and smooth Troi crawling on top on beefy and hairy Tatum is a horny sight. Hearing Tatum moaning with nine inches in his hole is all the hotter. And seeing Troi unloading his heavy nuts on Tatum's face ... the best.