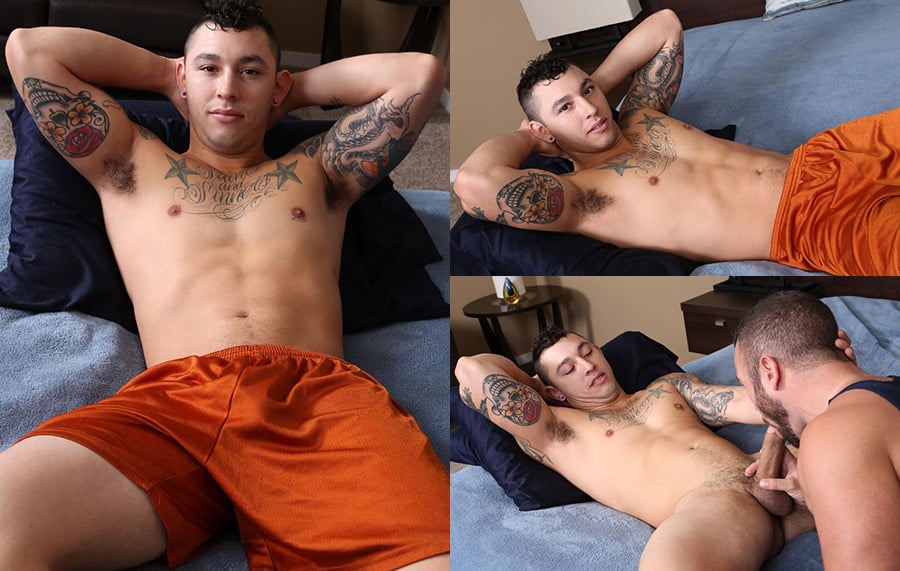 When 24-year-old Ciro did his jack-off scene for Chaos Men a couple of weeks ago, he said that he and his girlfriend were adventurous. Ciro identifies as bisexual and has played with guys before, which has amounted to topping them or swapping head. He's been in military service for the past eight years (and with his girlfriend for seven), but he's retired now and looking forward to the next phase of his life. So he thought he'd have some fun and do some porno while he tries getting a DJ career off the ground.
There are a lot of things I like about Ciro. I'm always a sucker for the Mediterranean look -- Greek, Italian, Portuguese, Spanish, it doesn't matter -- so Ciro's dark hair and eyes and his big, luscious lips get me revving hard. I don't mind tattoos, I rather like them actually, although I'm not a fan of sayings scrawled across a guy's chest. Still, with his thick cock buried down my throat, I'm not going to be seeing much of his "Saints and Sinners" tattoo. His pubes look like they're trimmed; I wouldn't mind them a bit bushier, but I could live with nuzzling his dark, bushy pits instead.
I'm not fond of his curly faux hawk (man, that's one hair style that just will not die), but I have never let an unfortunate hair style stop me from going after a guy. Man buns, undercuts, and even undercuts with tails, as silly as they look, if a guy a has nice face, that's all that matters to me. Hell, I've even been known to blow ugly guys too if they have a superb cock. Chaos Men's Noah isn't my favourite cocksucker over there, he uses far too much hand, i.e. hooker head, but Ciro loves the attention, and after he cums, he even shoves his dick back inside Noah's mouth so that the nob gobbler can blow his own load.
And before I let you head off to watching Ciro get his blowjob, I wanted to ask where all my commenters went. Whether you agree or disagree with me, I miss hearing from you guys. So how about it? Faux hawks, man buns, undercuts, what do you think? Do you like Ciro's cock? What about his tatts? Or how about those bushy armpits?