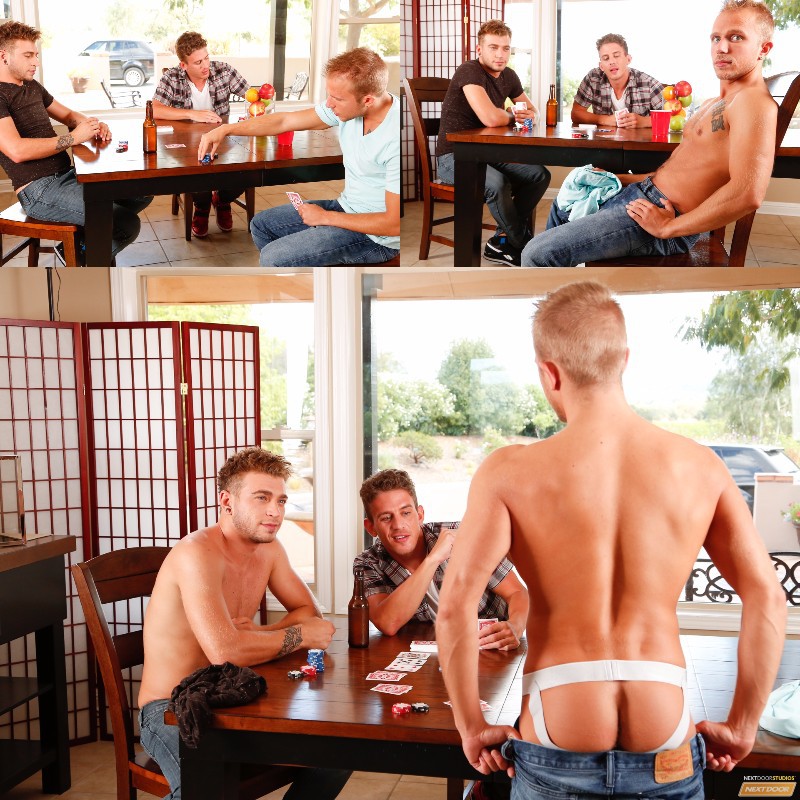 ---
Scene Pictures
Watch Rob Ryder Get Spit Roasted
Rob Ryder, Alexander Gustavo, and Alex Greene are playing a game of "No Limit" Texas Hold 'Em. "So, whoever loses," Greene begins, "Is taking dick from the other two." But the guys spice things up and turn this into a simultaneous game of strip poker, so each guy can have a few bad hands before he has to give it up.
What attracted me to this scene is Alex Greene and his new hair style. His coarse spiky cut makes him look even more sexy than he already is. But I've always had a thing for this blond, hunk stud. And I wasn't disappointed when he ends up being one of the winners because I love watching him fucking a guy's butt, especially a tiny, tight butt like Rob Ryder's.
It turns out that Rob isn't much of a poker player and he's the first to lose his shirt, then pants, and his underwear too. "You know what that means?" Greene teases. "Yeah," Rob says, "I'm getting fucked." But before that, the two Alexs get their dicks sucked. Rob bends over the table and gulps of Gustavo's hard-on while Alex opens up his hole with his big dick. The guys swap positions and continue spit-roast fucking Rob on the dining room table. Greene fucks Rob until he cums, then the two tops unload on the loser's face. Hmmm ... a cum facial is considered losing?