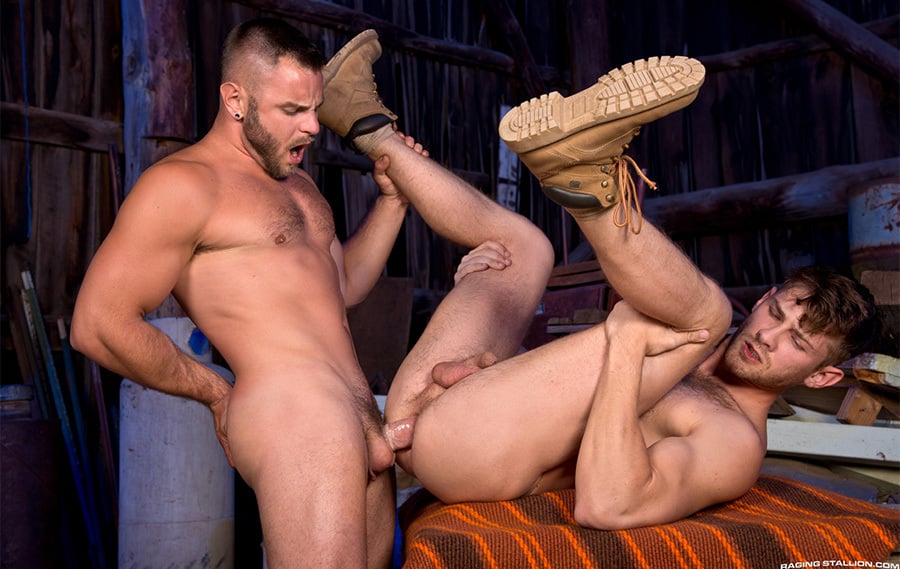 Jacob Peterson is making his Raging Stallion debut in Total Exposure. He's a handsome stud with wavy hair and a day's worth of face scruff, and if you like chin dimples, watch out! And when I saw his veiny uncut cock, I really did gasp out loud. What a beautiful piece of meat. Even semi hard it's still sheathed in foreskin and looks delicious hanging down from his thick blond bush. Nick Sterling takes him into a barn to get to know this sexy stud better.
I pop every time I see Nick Sterling, he's so fucking sexy. He's good looking, but his giant, round ass drives me most crazy. While I'm 101% bottom and would do a very poor job of fucking it, I would love burying my face between those cheeks and rimming him until his head caved in. When I saw Jacob Peterson squatting with his eight inches hanging between his legs, I was looking forward to seeing him pumping Sterling's plump ass. But it turns our Nick is the top in this scene. Unfortunately, Raging Stallion never seems to do many flip flop scenes, and this is one time that I wish they did, or at least cast this pair in opposite roles.
But one thing I'm grateful for is that, more and more, Pornland is showing off scruffy faces, hairy chests and bellies, and best of all, the foolish pube shaving trend seems to be on the way out. Here's hoping the man bun goes along with it. I'm seeing a lot of hairy bushes these days and I'm happy about that. I love it when a director just lets a performer be who is he because Jacob Peterson's furry body couldn't look any hotter. Nick drills Jacob over a wooden bench, a sort of standing doggy style, then they swap out with Jacob getting fucked on his back until he unloads all over his furry belly. I'm looking forward to seeing more of Peterson.