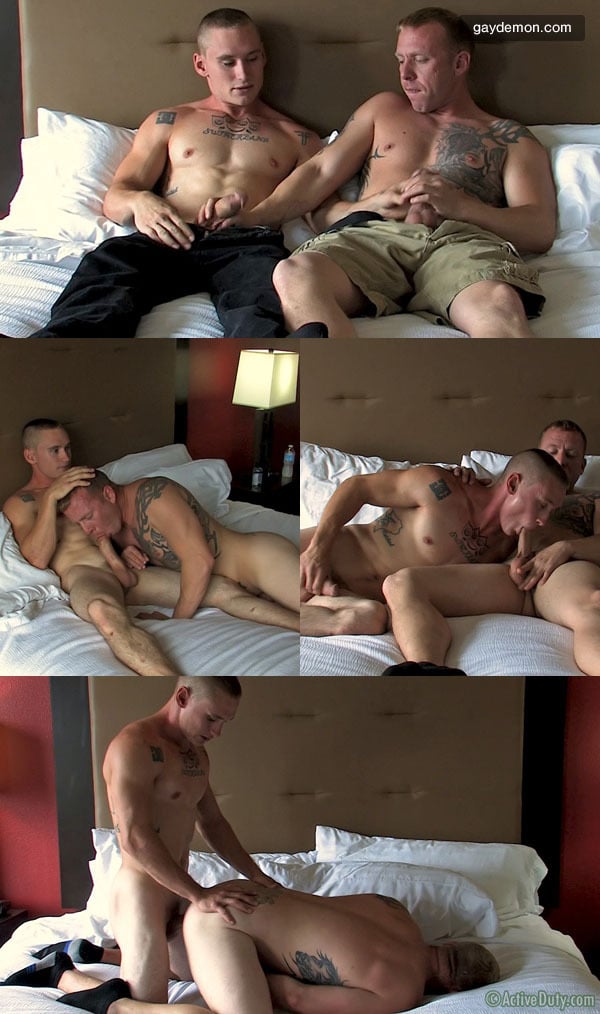 Cody is brought to us by Active Duty guest director Mike, and he is a big beefy guy - straight, tattooed, muscular, up for anything, and to top it all off - he has a great big smile! And in this scene today his grin is bigger than usual, as he's about to get his butt fucked royally by the shredded Tim!
Things start off with the guys sitting side-by-side on the bed, cocks out of their pants, both stroking each other's dicks, trying to get them nice and hard. We find out from Mike that Cody has done a solo shoot and a bit of previous oral work, but this is his first time doing anything hard core with another dude. And, just to tease Cody a bit, he further says, as he's been paired up with Tim, he'd better be ready for a wild ride! Apparently it took a bit of "coaxing" to get Cody to cross that gay/straight line - but luckily he did agree to do some fucking action, and he's here now, mentally prepared, fully committed and ready to give us his all!
Once the trousers come off Cody decides stroking Tim's fat cock simply isn't enough, he wants to try some cock sucking - and this guy sure is eager! He gets down between Tim's meaty thighs and takes his big dick into his mouth and really goes to town on it - he licks and sucks and even deep-throats it down to the balls, and nothing, not even a flushed red face from all the choking and gagging, can deter him from his mission! With his nose firmly located between Tim's balls, and his big fat cock fully engulfed deep within his throat, Cody shows Tim he's ready for anything!
Tim is now so hard it hurts, and he takes control. He returned the oral favours for a while, but what he really wants to do is fuck! So he gets Cody onto his hands and knees, moves in behind and enters that virgin hole with his hard cock just like a hot knife slicing thru soft butter. Cody on the other hand is panting with pain, trying to breathe, biting on a pillow, as his arsehole tries to get used to the feelings of having his hole invaded and being so fully stretched. But as Cody's moans and groans slowly change in tone as the pain turns into pleasure, the young Tim just continues his relentless thrusting - in and out, in and out! Soon Cody gets into the same groove as Tim and before long we can even hear him softly say "oh yes, fuck me!"
But Tim is not one for vanilla sex, and soon he decides it's time to swap positions. He flips Cody over onto his back, grabs his legs and holds them up in the air, making his hole more easily accessible, and enters it and starts fucking again. Meanwhile this new position allows Cody access to his own cock. He starts jerking it with his right hand, while gripping the sheets with his left, keeping himself stable as his arse continues to be pounded. Then we hear his say - "I'm gonna cum," as he starts to spew his load all over his stomach - while still being fucked! Tim see this and quickly pulls out, just in time for the camera to catch his load squirting out his cockhead all over Cody's cum drenched belly.
Afterwards, Cody says - with that sexy smile of his - that although the experience was "pretty painful", he would do it again! Nice kind of "can-do" attitude!