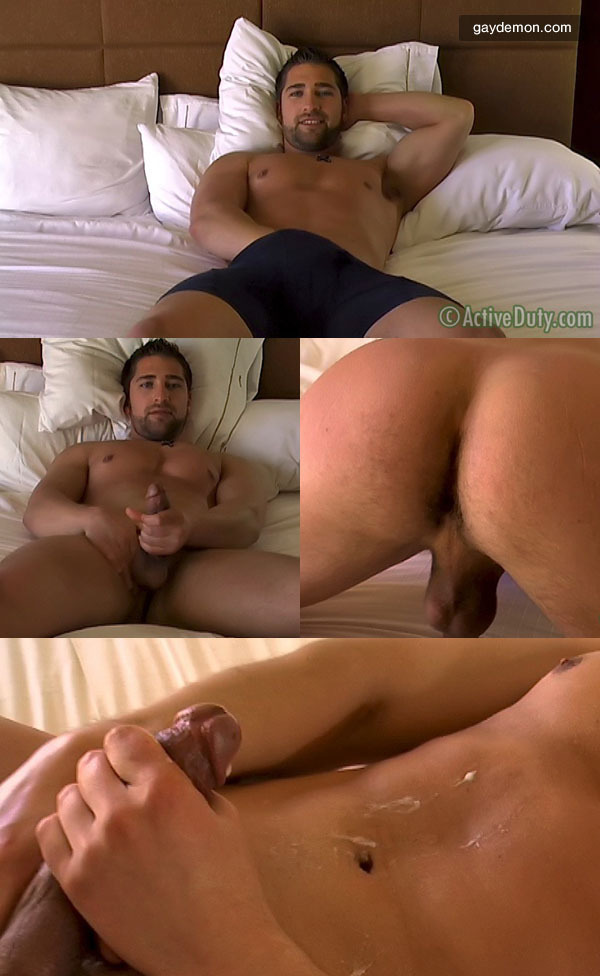 The latest new recruit over at Active Duty is named Dylan. He's a great-looking guy, handsome face, with that masculine unshaven look, a smooth, beefy torso and a nice fat cock. This video was filmed almost 18 months ago, but for some reason they had it squirreled away and it only came up for air recently. It is Dylan's first ever venture into porn - and we're lucky they found it and released it for our viewing pleasure.
Dylan has beautiful eyes, a broad, sexy smile and is obviously more than a bit nervous at the start of this solo jerk off - but he soldiers on and once naked, proudly displays his beefy body off to the cameras, even rolling over and giving us a great view of the twin muscular globes that are his butt-cheeks, which are parted just enough that we can even get a look at his tight little arsehole!
Then he starts to play with his fat cock, desperately trying to get it hard. He jiggles it wildly, rolls it around under the palm of his hand, then jiggles it some more. Slowly it starts to respond - but the bit I like best is when he's slapping it about, his big dangly balls also jiggle wildly from side-to-side, up and down - watching them flop around is a real treat for ball-lovers like me! Soon tho, his cock grows to full size and the look of relief floods his face, and his strokes become less laboured and more practiced as he jerks to a nice cummy finish - all over his tight washboard abs. Great debut Dylan - a job well-done!