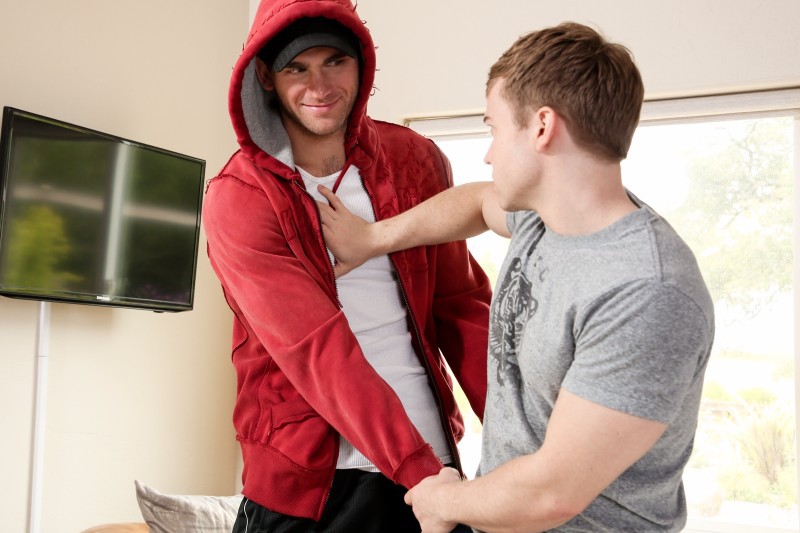 Get a Membership for $1.00 - Visit Next Door Raw
Gabriel Cross has a stalker problem. He just moved to a new apartment and hopes that's the last he's seen of Jonah Marx. While unpacking a box Gabriel suddenly hears from behind him, "Do you need help with that?" Marx is standing right there in his apartment. How the hell did this happen? Wait until you see what happens next.
"You know I can't stay away from you," Marx says, moving in closer. "You're the best piece of ass I've ever had." He reaches around and grabs Gabriel's butt hard in both hands. "I know every spot on your body that drives you fucking wild," he whispers while kissing Gabriel's neck. "Tell me you want my dick." Gabriel knows he shouldn't, but he can't resist. "I want your dick."
Gabriel Cross isn't new to Next Door Studios, he's filmed a few scenes with them, but somehow I've managed to miss him, and this is his first bareback scene for Next Door Raw. And he's either a very short guy or Jonah Marx is very tall and towers over him. I think it's a bit of both. Cross has a sexy British accent and even though he tries to pull off some dirty talk, Brit's just always sound too polite to pull it off. But he does have a delicious butt and Jonah drills it hard and fills it with his cum.