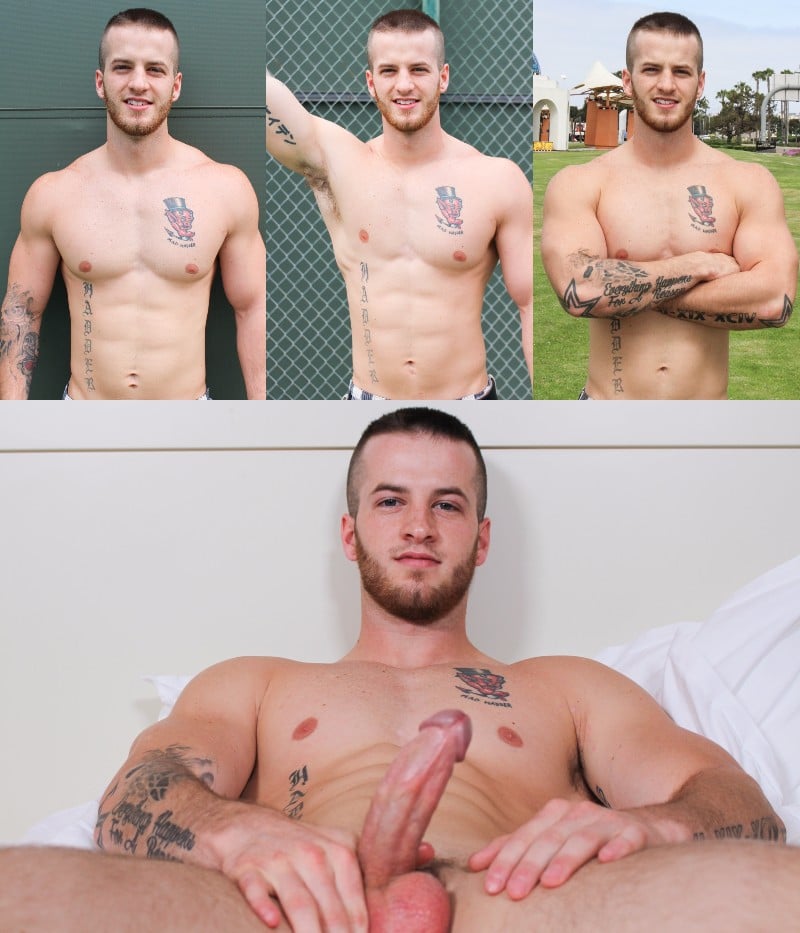 See Quentin Gainz in 24 Videos at Active Duty
When I first spotted Quentin Gainz at Active Duty back in July 2015, I figured we'd be seeing a lot more of him. A porn blogger doesn't need a crystal ball to predict that one, Gainz is a good-looking guy with a hot body, but did he have what it takes to be more than a three-scene wonder? You bet. With nearly 50 scenes under his belt, Quentin Gainz is GayDemon's Model of the Week. I asked Gainz about some of his favourite scenes, so come inside and see what he had to say.
Quentin, you've done roughly 24 scenes for Active Duty and 17 scenes for Next Door Studios. When you did your debut jack-off scene, did you ever think that you'd end up doing this many scenes?
Prior to doing my solo with Active Duty I had no idea what was ahead. I just knew it had to be all or nothing. I feel very good about everything I've done and even more excited for what's to come in 2017.
Do you have a favorite scene that really stands out in your mind?
Princeton and I with Active Duty would have to be my favorite scene that I have done up to this point. Everything just flowed so well. We know each other outside of porn and I think he is very attractive plus we're both pigs so you really can't go wrong there. :) (Quentin and Princeton are featured in the first four pics in the collage above.)
Out of all your scene partners, who was the best kisser?
Plenty of them were very good kissers, but I would have to go with Dalton Briggs in The Boyfriend Experience we filmed for Next Door Studios. I love his big juicy lips.
Whose cock did you enjoy sucking the most?
That would have to be the Ivan James. To me he has the most beautiful cock I've ever seen. (And Quentin must have really loved it, he did five scenes with Ivan James at Active Duty and another for Next Door Studios.)
You bottom a lot, and you're good at it, BTW, what do you think makes you a good bottom?
The thing I think that makes me a good bottom is that I watch my scenes and if there is something I do or don't like, I try to fix it for the next time.
Which of your top scene partners did you enjoy the most?
My favorite top scene partner goes to Dean Phoenix. He is very gentle, but knows when to be rough. (This scene hasn't been released yet.)
Name three guys in Pornland that you'd like to do a scene with but haven't yet?
I would like to do a scene with Lance Ford, Chris Blades, and Jake Davis.
Can you tell me something you'd like to do in a porno that you haven't yet?
I would like to give someone a golden shower or be part of a bukkake scene and blow a load on someone's face with a couple other guys.
Do you mind telling me what city you call home? And are you single or partnered?
San Diego and I am single for 2017.
Do you prefer boxers, briefs, or commando?
I prefer briefs throughout the day but at night always commando.
See Quentin Gainz in 18 videos at Next Door Studios and 24 videos at Active Duty.