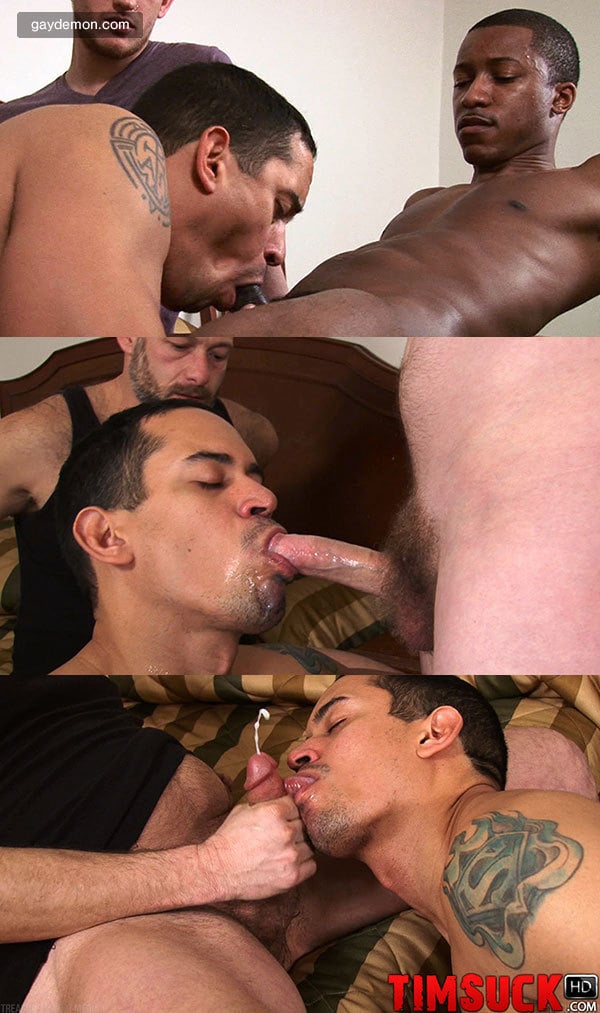 If you want to learn how to suck dick, New York's Antonio Montez is a good cocksucker to watch. In this hotel-room blowjob scene from TIM Suck, Antonio has three very different dicks to suck. Sebastian Jay and Skylar Cove are sitting side by side on one bed and Sailor is one the other; Antonio kneels between the beds and goes from cock to cock.
Sailor is a 40-something, beefy man, he's bald and bearded and his dick is on the thick side. Antonio swallows Sailor's whole hard-on with long, wet gulps and Sailor's gripping his fists by his sides, so you can tell he's enjoying it. Skylar Cove is a skinny, shaggy-haired dude whose cock doesn't look overly impressive until Antonio gets to work on it, then it gets long and stiff.
If you watch Antonio closely, I think you'll agree that Sebastian Jay's dick was his favourite. Jay's dick is definitely the longest of the three, it's also uncut, which gives Antonio something else to do with his tongue. And while Antonio didn't shirk on his duties with the other two men, he barely looked at them. But while throating Sebastian's long black dick, Antonio couldn't stop looking into the stud's eyes. He was getting off as much as the look of pleasure on Sebastian's face as the huge hard-on sliding down his throat. And Antonio's foreskin tongue fucking moments showed that he really loved this stud's dick.
One after another, these three men reward Antonio's talented mouth with their sticky cum loads. And he laps up all that jizz. But again, watch closely, he seems to love the taste of Sebastian's jizz just a little bit more.