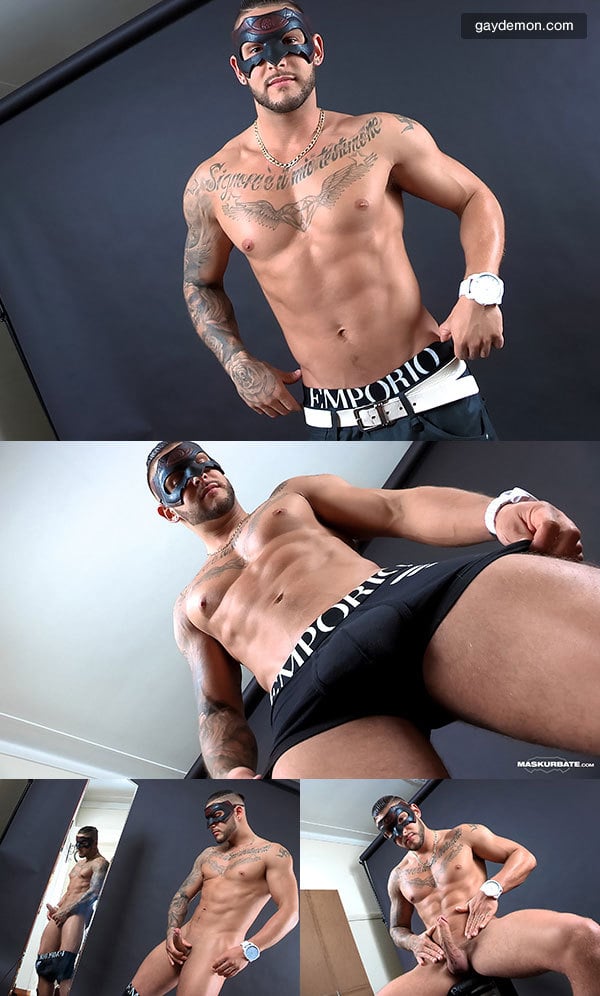 Its moving day for the Maskurbate offices, and three well-muscled friends came round to give Pascal a hand moving some of the larger pieces of furniture. They also brought another guy with them - his name was Campo and he was a friendly and super-hot straight guy who Pascal had never met before, but he instantly knew he just had to film him, no matter what - and believe me, you're just gonna love him!
Pascal quickly improvised a mask and got Campo out back into the studio while the rest of the guys were outside taking a break from their furniture moving. Campo was intrigued by this gay guy, who wanted to film him stripping naked and jacking off. He made it perfectly clear that he was 100% straight, but he loved sex, and was willing to allow a little lee-way in the gay-straight continuum - but just for today!
Despite his youth, Campo was remarkably fit, trim and obviously worked out a lot, as he was very well-defined and muscular. Just check out the biceps on the guy! WOW! Campo started to take off his clothes and allowed Pascal to touch his muscles and worship his body. His smooth washboard abs complemented his tastefully tattooed arms and chest. The short beard accentuated his masculinity, and showed off his gorgeous smile to full effect. But when his pants came off, the most amazing muscle of all finally got to show itself off - a really fat, uncut cock! It was truly beautiful, and the way Campo stroked it - slowly, bringing the foreskin back and forth along the shaft and over the head - was the most exciting thing Pascal had seen in quite some time! Then, to top things off, Campo shot his warm, sticky cum load all over his shaved pubes and tight abs - yum, what an amazing finish!