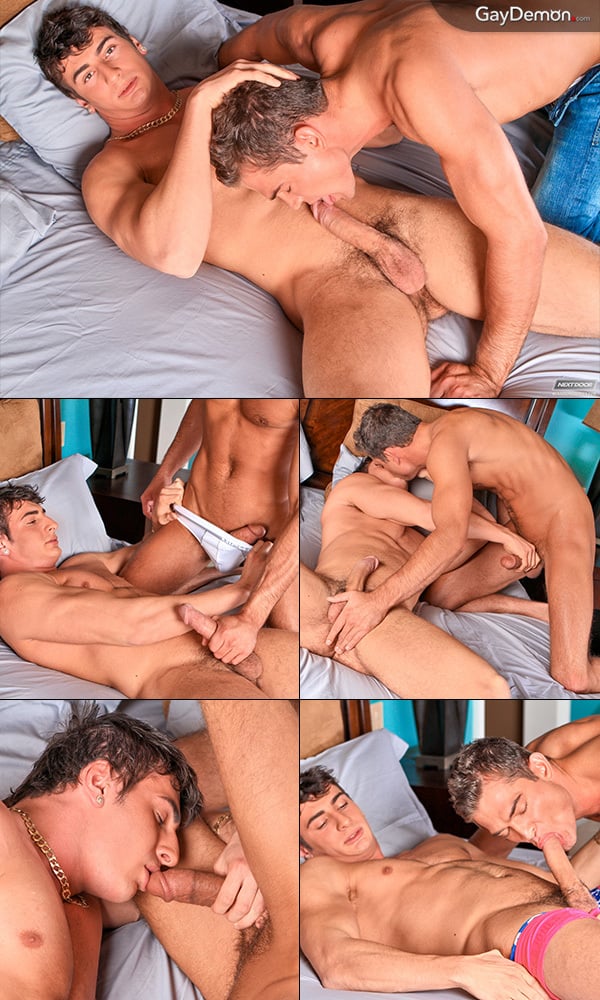 In this scene from Next Door Buddies, Mario Torrez and Luke Milan are playing best friends. They've been buddies for a long time, but as these things sometimes go, Luke has had a long-standing crush on Mario. Who can blame him? Mario Torrez is a handsome and sexy stud.
Luke's urges are getting stronger and he finds it hard to contain them when Mario is around. One afternoon while Mario is napping in his underwear, Luke gives into his feelings and starts rubbing Mario's feet and legs. Mario doesn't wake up until Luke's hand is squeezing his considerable bulge. Caught red handed, Luke is embarrassed but Mario doesn't protest.
Excited that his fantasy is coming true, Luke quickly slides off Mario's underwear before his hunky friend changes his mind. Then Luke climbs up on the bed and swallows Mario's stiffening dick. Luke moans a huge sigh of relief when Mario slides his tongue between Luke's round butt cheeks. With his dick raging hard, Mario takes over, pushes his best friend down on the bed and plunges his big dick inside Luke's ass. And by the way Mario fucks his best friend's ass, it's pretty clear he's been harboring some feelings of his own.