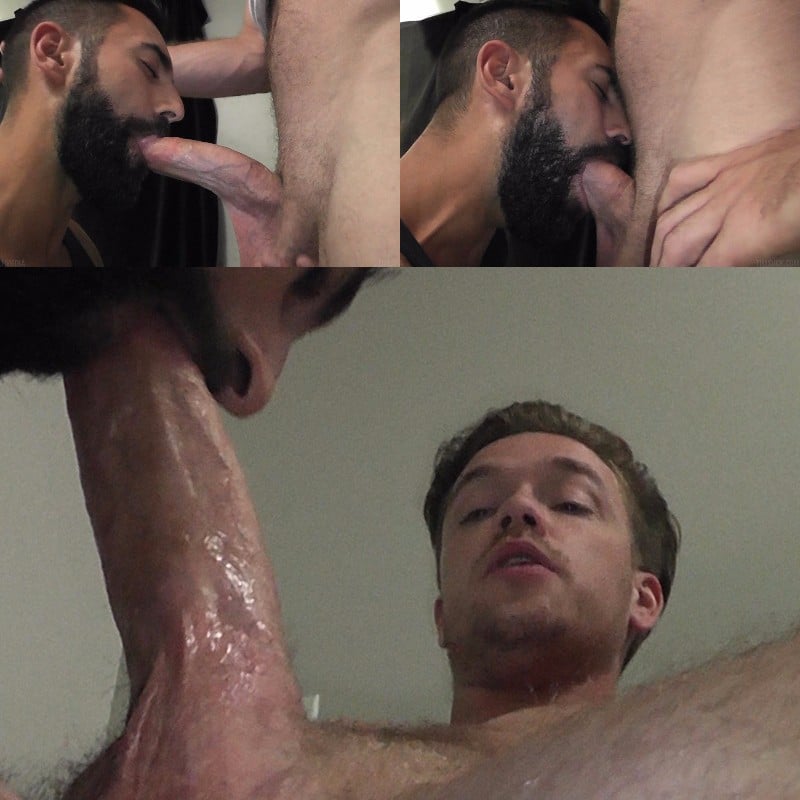 Lucas Knight has a pretty big dick -- challenging for some, impossible for many -- but in this TIM Suck video, Dean Brody proves himself a capable cocksucker. And Lucas shows his appreciation by filling up Dean's mouth with cum.
There's nothing worse than watching a cocksucker struggling with a big cock, especially when I know it's a dick that I could easily handle myself. I don't know exactly how big Knight's meat is, some sites say it's eight inches, others say it's nine. It doesn't matter because Dean Brody holds onto Lucas' big nuts and gulps and swallows until his nose is pressed against the stud's crotch. And by the way, Lucas Knight has announced his intention to leave Pornland, so if you're a fan, this is going to be one of his last on-screen blowjobs.
Lucas helps Dean out and holds the back of his head with both hands and pounds into the cocksucker's throat. Dean takes it, no complaints and no gagging. Then Lucas sits back on the sofa and flexes his arms behind his head and watches Dean enjoy his cock. He thanks Dean for the superb head session and squirts his considerable load of jizz into his gaping mouth.