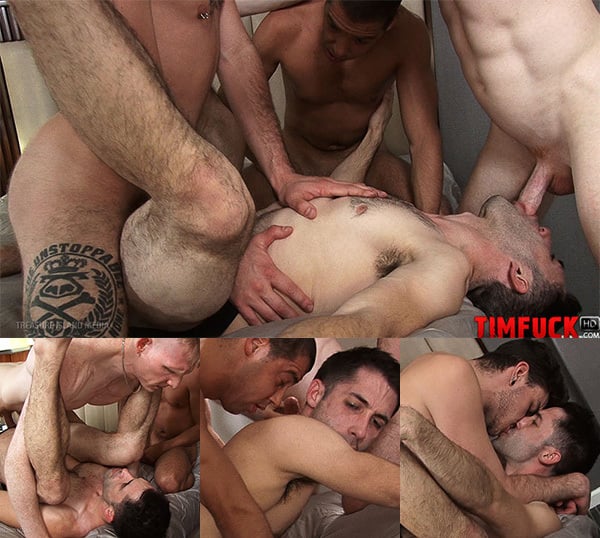 You've probably seen those real-time ads on hook-up sites where some bottom wants to be whored out to a bunch of horny tops with headlines like "Use My Hole All Night." I always wonder if these guys really mean what they say. Do they know what they're asking for? And are they truly willing to find out? In Treasure Island Media's new release called "Flooded," Kyle Ferris finds himself in this exact predicament. Come inside and see how he makes out.
Kyle Ferris is on a mission, he wants to be loaded up. He wants to get fucked and take seed. Lots of it. Treasure Island Media starts him off slowly with three hung tops to see how much punishment his ass can handle. Tommy Deluca has the biggest cock, I don't know how big it is in inches, but it's so big that it never really gets rock hard, just spongy hard, you know, hard enough to go in and open up a bottom's hole.
After Tommy does the initial mining, Rob Yaeger takes over and rams his decent-sized dick in Kyle's hole. And while he pounds away, the other two keep Kyle's mouth busy on their cocks. Then Luke Harding moves in for his turn, and he does have a big cock that gets very hard. And even though Kyle's been worked over for several minutes now by the others, this new stiff bone spearing his innards is causing him fresh pain. But he'll get over it. He has no choice.
This scene from the upcoming DVD "Flooded" is being pre-released on TIM Fuck where you can watch it in its entirety.