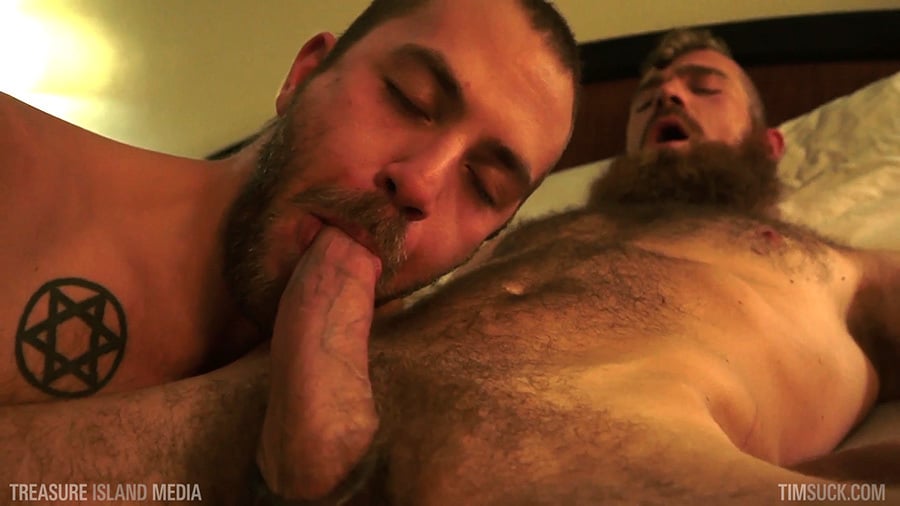 Adam brought his bushy beard into the TIM Suck's studio for an interview to see if he'd be a good candidate for some cocksucker to service. He got the producer's attention when he mentioned that he's been fooling around with his younger cousin Jacob for years. The producer asked if Adam and his cousin would be interested in filming one of their head sessions. "Sure," Adam says. When TIM asked if he needed to check with his cousin first, Adam just smiled.
I don't know what to tackle first: real-life cousins filming one of their regular blowjob sessions or Adam's big, bushy beard. Ever since dirty stepdad Dirk Caber fucked stepson Johnny Rapid in the shower in MEN.com's Stepfather's Secret, gay porn studios have been rushing out a never-ending parade of quasi-incest sessions and horny porn-watching masses have been eating them up. Stepdads, stepbrothers, brother-in-laws, we've seen it all, even fathers fucking their son's best friend or daughter's boyfriend. But no one has touched on cousins that I know of (I'm sure one of you will let me know if I missed this) in spite of the fact that movie titles involving "kissing cousins" pretty much write themselves. But I guess one cousin blowing another isn't particularly taboo.
But you can see why Adam regularly pulls his pants down for cousin Jacob -- the guy can suck dick. He slides up and down Adam's shaft, which is a good mouthful, he deep throats quite easily and even gets his cousin's balls in his mouth. And after some nipple sucking, these two really do become kissing cousins with deep beard-on-beard necking. Adam lies back for most of the scene and lets his cousin do whatever he wants, but when the bearded man wants to unload, he kneels over Jacob's mouth and squirts his good-sized load down his cousin's throat.