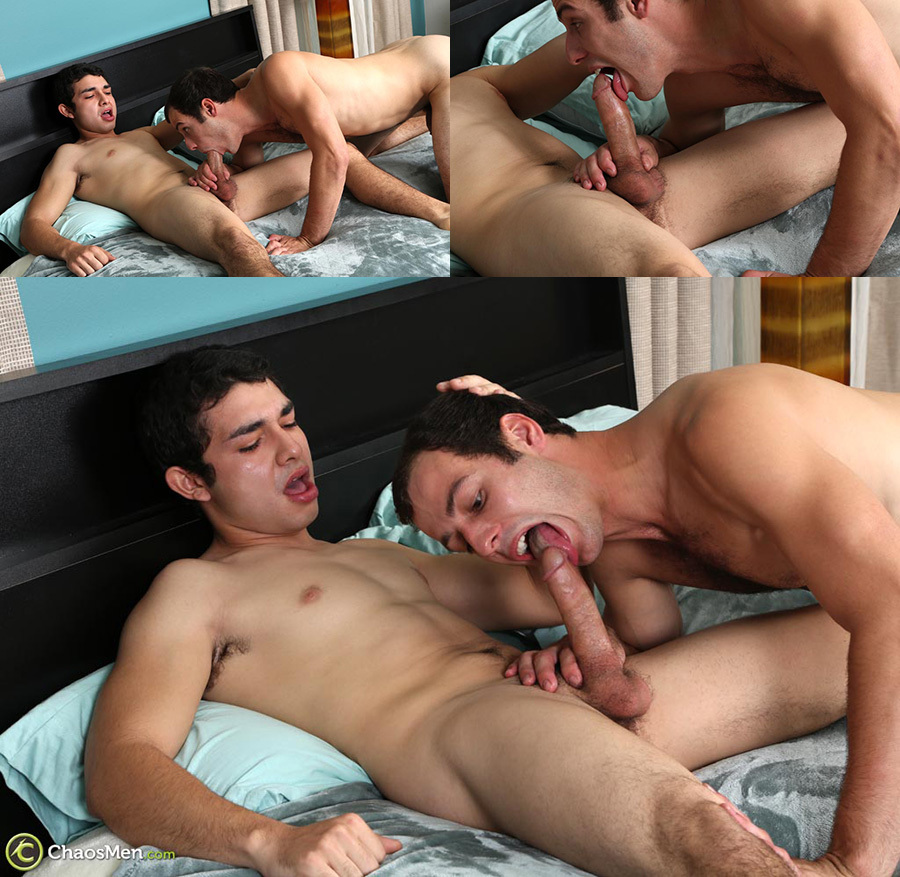 Kai is a fairly new gay dude who did his first solo video at Chaos Men back in June, and he followed up pretty quickly with a servicing session where he swapped headed with the sexy Griffin. But we haven't seen him since then. Last week he showed up in his first fuck scene with Truman, who has a bit more filming experience than Kai, but not a lot. It's a horny little scene for a couple of reasons, so come inside and check it out.
Kai is 20 years old and he used to be heavier, so he's still getting used to his newish body. He's got a thick cock, which he can jack proficiently with either hand -- hung and ambidextrous, how fun! Kai is gay and prefers to top, but he's got a boyfriend who is a top, so he's discovering his inner bottom. I hope the boyfriend gives it up now and again. Truman says he's straight, but funnily enough, he's bottomed in all of his four hardcore scenes. Actually, I guess it isn't so strange. My partner and I once played with a bisexual guy and when asked if he wanted to fuck either one of us he said, "No, I fuck my girlfriend all the time, when I'm with a guy I want to experience something I can't with her." So my partner fucked him.
The guys swap head, then Truman slides down on Kai dick. He pants heavily and says that it's bigger than he thought. Truman rides Kai until his hole is open, then the top drills him doggy style over the bed. But my favourite sequence is the last with Truman lying back and Kai pumping his ass. Kai grabs Truman's foot and holds it while sucking his toes, all the while thrusting in and out of Truman's hole. (This is Kai's second time with a guy's foot in his mouth.) The bottom is on sensory overload and it's not long before he shoots his wad. With his job done, Kai squirts jizz all over Truman's ass.