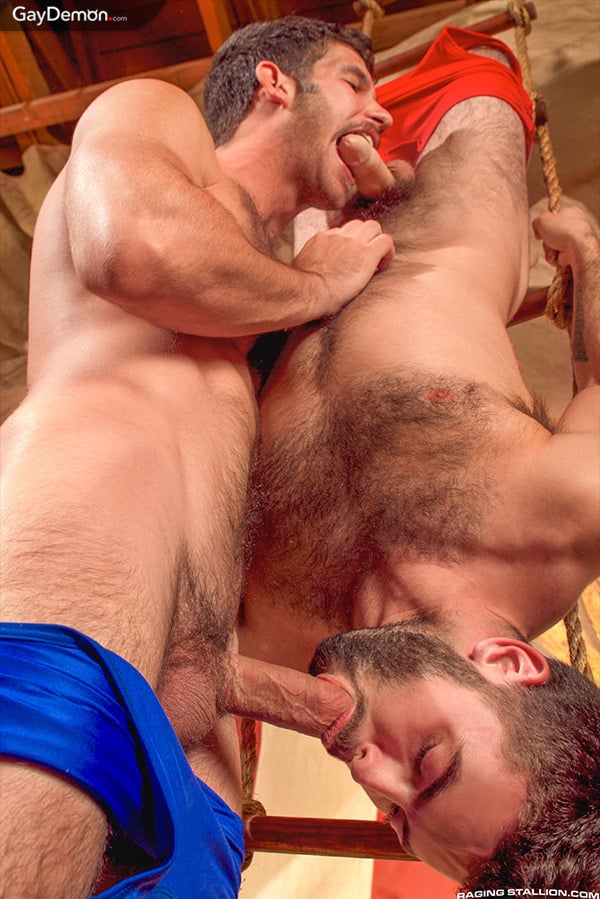 Jimmy Fanz and Josh Long are the latest pairing to come out of Raging Stallion's new DVD Behind the Big Top. I often get a chuckle out of Raging Stallion because they concoct some of the most ambitious, acrobatic sex you'll ever see in gay porn. Guys fucking on ladders, guys hanging off kitchen cupboards while taking a pounding, and all of manner of unpredictable and implausible positions. I can't remember the last time I hung upside down on a rope ladder to get into a steamy 69 cock sucking session, but in the case with Jimmy Fanz and Josh Long, it makes sense because they're playing circus acrobats.
Jimmy and Josh are wearing their tight-fighting singlets and practicing a routine in the props tent. Josh says that he has an idea and climbs the ladder, wraps his legs around a rung, and hangs upside down; his cock is perfectly positioned to slide into Jimmy's mouth, so they get into one of the most creative 69 positions I've seen in gay porn.
Then Jimmy hangs off the ladder and Josh fucks his ass. They really are pulling everything out of their sexual positions bag of tricks. They play around with more rope and suspend Jimmy's legs in the air while Josh holds the ropes and pounds hole. It's a hot and fun scene to watch, but it definitely falls under the category of "do not try this at home unless you're a trained acrobat."