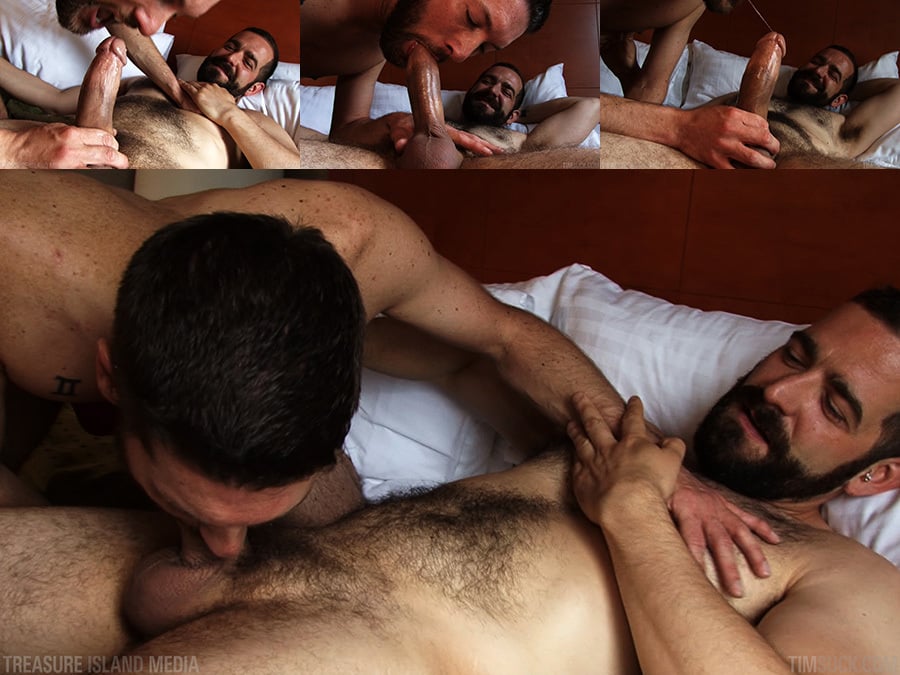 Watching Eric Hassan kissing Jay Banks is such a turn-on. This sexy hairy man really knows how neck. In fact, I could watch these two snog for a good long time, but this is TIM Suck, so someone has to put a dick in their mouth eventually. And that would be Jay. Eric lies back on the bed and Jay tongues his crotch bulging in those Nasty Pig underwear. Before pulling out Eric's cock, Jay sneaks back up for another long kiss.
Jay finally gets Eric's underwear off and goes to work on his dick. I'm disappointed at first because he's using lots of hand, which prevents me from getting a good view of Eric's cock. But eventually, Jay turns around and plants his ass in Eric's face and goes back to gulping the man's dick. He's sucking mostly hands free now, so I can see that Eric's bone is dark brown and thick. Eric kneels over Jay and the cocksucker bobs and deep throats on this beautiful piece of meat. Hassan has a Goldilocks cock: not too big and not too small, just right.
But I enjoy this blowjob best when Hassan simply lies back on the bed and gets done. He stretches his arms behind his head and his dark, furry pits are so enticing. I enjoy being able to take in his whole hairy body. And the whole time he's getting serviced, Eric is wearing a bit of a smirk -- he's really enjoying Jay's mouth.