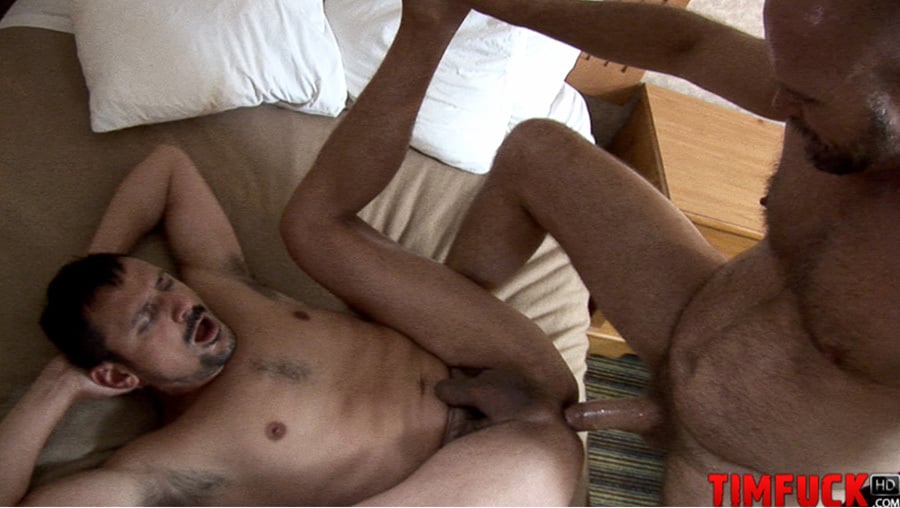 A lot of guys wouldn't even give Jake Mitchell the time of day. He's a bald, scruffy-faced daddy, ruggedly sexy, but he's definitely showing his age. Yes, if Mitchell's picture popped up on their Grindr, a lot of guys would definitely swipe left. Their loss. As you'll see in this TIM Fuck video, not only is Mitchell hung like a mule, but he knows how to use his tool. And he's not an easy top either, as Ron Rossi finds out.
Jake Mitchell has been around Pornland for a long time. I don't know exactly how long, but I just saw pictures of him from as far back as 2005, but he could very well have been filming porn before that. He was always one of my faves and I especially get revved up fantasizing about servicing his big cock. Sometimes it's hard gauging the size of a man's dick just from a picture or video without a good frame of reference, there are some many camera tricks to improve the appearance of a man's endowment. Ron is lying back with his arms behind his head and Jake is drilling him, then he starts pulling out his dick -- it keeps coming and coming, like it's never going to end. Pop! It finally springs free and what a sight!
And aside from servicing Jake's huge dick with his ass, Ron Rossi shows us what a damned skilled cocksucker he is. At the beginning of this scene he swallows Jake's meat and doesn't flinch much when the top pushes his head all the way down and holds him. I sure would love to try that myself. Ron is a lucky bottom and this is one horny scene.