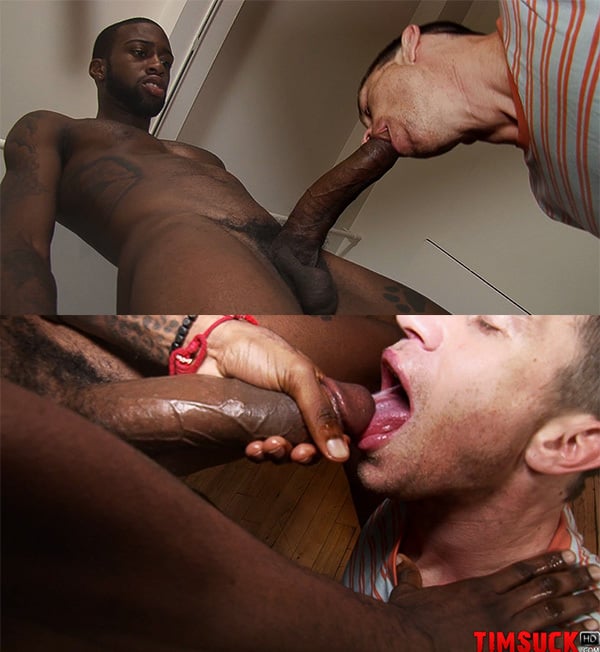 I don't imagine Hot Rod gets a lot of satisfying head. Let's face it, there aren't a lot of guys out there capable of deep throating such a massive dick. I don't know exactly how big it is, one site marks it at 10.5 inches, but who knows for sure, and anyway you look at it, Hot Rod has a huge dick. Having just watched Jacob Lee downing Hot Rod's meat in this TIM Suck video, I'm betting Hot Rod asked for Jacob's phone number, you know, to keep him in the stable of guys he has servicing his dick on a regular basis.
Jacob Lee is impressive to watch, pure pleasure really, and inspiring too. Hot Rod's soft cock is bigger than most erections, but the cocksucker gobbles down the whole thing until his lips cover the very base of it. It doesn't take long before Hot Rod bones up, but Jacob continues swallowing most of it and every once in a while, he goes deep. He doesn't even choke when Hot Rod holds the back of his head and pushes. Watch Jacob's neck in these moments, you can see Hot Rod's cock pushes out Jacob's neck muscles.
But I was disappointed with Hot Rod. He just stands there and watches Jacob working his meat. He throws his head back from time to time, but he never gasps, grunts, or groans. You'd think a massively-hung stud like Hot Rod would appreciate the skill it takes to swallow such a whopper. A "Wow! You're good" or "Shit! I want to marry you" every once in a while would be nice. But Hot Rod does squirt a considerable load in Jacob's mouth and maybe that's all the appreciation the cocksucker needs.