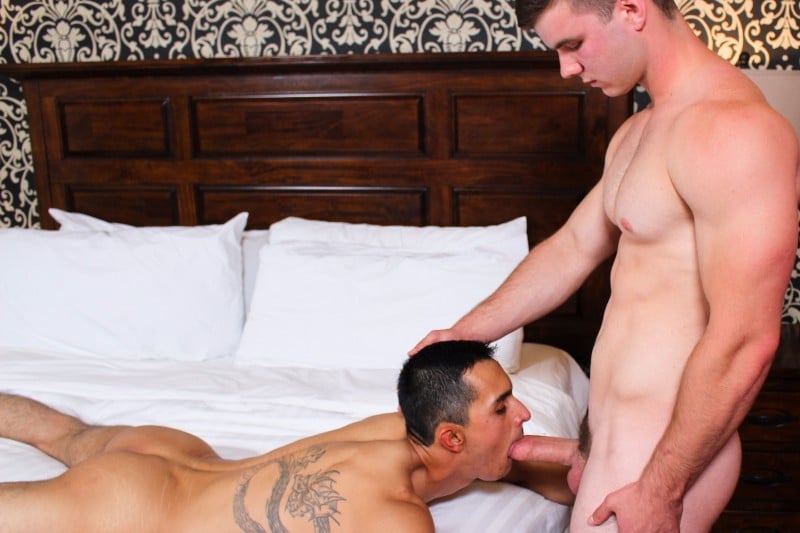 Get a 3-Day Trial for $4.95 - Check Out Active Duty
When this Active Duty video opens, Ivan James is sitting back on the couch with his pants down around his knees and Will is stroking his fat piece of meat. "It's huge," he pants. Ivan smirks and says, "It's still growing." Can Will handle it? Come inside and see.
This is supposed to be Will's first time having sex with a guy. I don't know about that. He seems to know his way around a dick pretty well. And lying across the bed on his stomach, he gulps that fucker down his throat and doesn't even gag when Ivan starts pumping his mouth. I don't know about you, but it took me a while before I was able to down a big dick like this.
Will lies across the bed with his feet on the floor and Ivan slides his big dick into the lad's raw hole. And Will takes it, and pretty easily, too. Again, I don't know about you, but when the first cock cracked my rosebud, I saw fucking stars and screamed, "Take it out! Take it out!" Anyway, it's Pornland, isn't it? I guess maybe some will be extra turned on thinking that Will is a virgin, but for me, Ivan James is the star of this video and he doesn't need a gimmick to turn me on. He's good looking with a great body, I love his big cock and dark pubes, and the boy knows how to fuck ass.