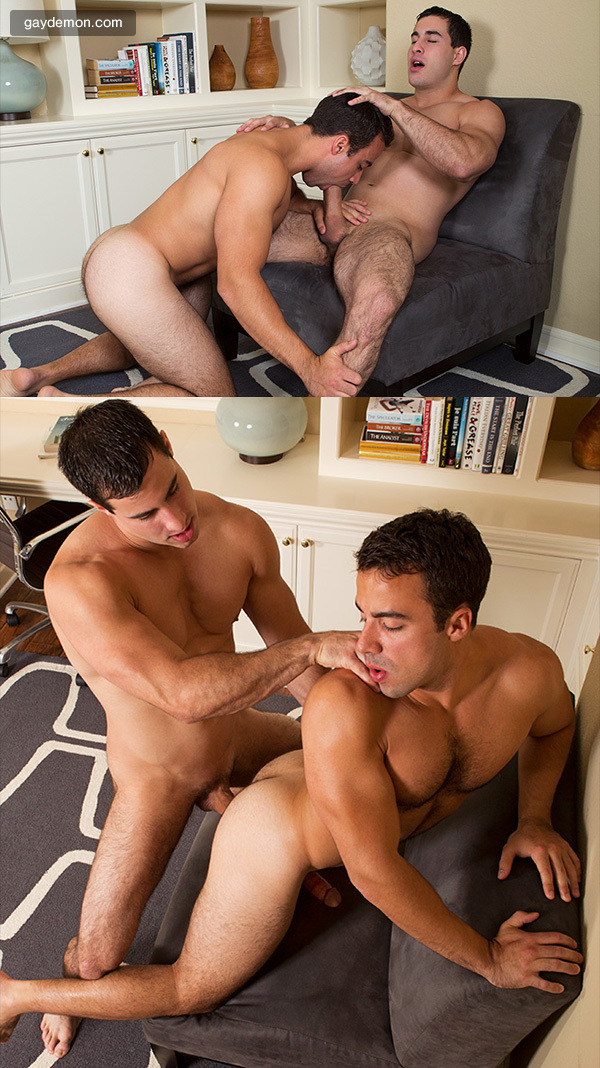 Before Randy fucks Eddy, the guys get together and talk to Sean Cody. "Have you seen what's in Randy's pants?" the producer asks. "I have not. But I've heard what's in Randy's pants, and I hear it's going to be a challenge," Eddy says. Randy unzips and bashfully reveals his soft uncut cock, which he doesn't think is very big, but Eddy says, "It's pretty big, dude, for being soft." And he's right, Randy's a shower.
Conversations about dick size are funny though. I remember seeing a couple of girls in a YouTube videos talking about the biggest one they ever had and the one girl said her boyfriend's was "HUGE!" And it turns out that she said it was about seven inches. Huge? That's an hors d'oeuvre. See what I mean about dick talk? One woman's huge cock is another man's starter penis. Don't get me wrong, Randy has a nice dick. It's deliciously thick and covered in foreskin. Yum! And it's a respectable length, I'm guessing around eight inches. But a challenge? I guess if you're not used to getting fucked.
But when you see Eddy bouncing wildly on Randy's penis, you'll probably giggle like I did and ask, "Dude, when does the challenging part start?" Is it when you're bent over the bed and Randy's bone is buried balls deep? Or is when Randy is pounding you into the back of the sofa? Or is when you have you legs in the air panting "I'm gonna cum" while Randy is drilling your hole? Just let us know, we're always up for a challenge.